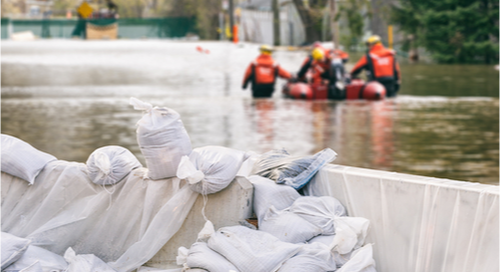 Natural disasters never leave as quickly as they arrive. After a hurricane, storm, fire or other disaster is over, the hard work begins: rebuilding a community and helping people return to their normal lives.
When you're dealing with people's livelihoods, you're dealing with more than just jobs; a responsibility that no one should take lightly. For 30 years PeopleReady has been proud to bring workers to disaster recovery sites as businesses help communities rebuild.
Organization under pressure
Last fall, when Hurricane Michael hit the Florida panhandle, a PeopleReady team arrived in Panama City to find a heavily damaged scene with downed power lines and debris throughout. Although without power, the local PeopleReady branch was still standing and the team managed to clean up the site, power up the generators, and open for business. Eager workers lined up at the location and the recruiting team onboarded more than 300 people on Saturday morning. By the next morning, the first associates were dispatched to work.
Working behind the scenes
The month prior, when Hurricane Florence struck Virginia and the Carolinas, PeopleReady was equally prepared to get people working and restoring the affected communities. Although important, our team also knew it wasn't simply about having a functioning brick-and-mortar location. They needed to be prepared behind the scenes so finding and placing associates was seamless and effective.
In preparation for the storm's arrival, the PeopleReady team worked around the clock to:
Ensure we had accurate contact information for all employees, associates, and customers in the potential impact zone.
Activate remote recruiting teams to assist with surge hiring to get associates on clean-up sites quickly.
Encourage customers to download and use JobStack so that they could still place orders and approve associate pay on their phone even if the power was down.
Arrange transportation to get associates into work sites following the storm.
Have enough personnel in place to handle administrative and support tasks from remote markets.
Ship scanners and pay cards in order to accelerate hiring and assist with problem-free associate pay.
Looking beyond the storm
Before the storms arrived, PeopleReady teams monitored the safety and well-being of their teammates and continued to do so after the storms passed. They stayed in constant communication to ensure everyone was safe and had the resources they needed. When you partner with PeopleReady, you're partnering with a team that understands what it takes to recover and succeed after a natural disaster.