Erwin Begay of Phoenix, Arizona
"Erwin has always gone above and beyond with every job he's taken," says Vanessa Peoples.
In 2016, Erwin Begay began his skilled trades career doing miscellaneous drywall work — installation, taping, mudding and just about everything in-between.
Fast forward to 2019. Erwin and a few of his friends were looking for work in Phoenix, Arizona, and stumbled upon a local PeopleReady Skilled Trades branch. Ever since walking into the office that day, he hasn't looked back — and our team, as well as our customers, have taken notice.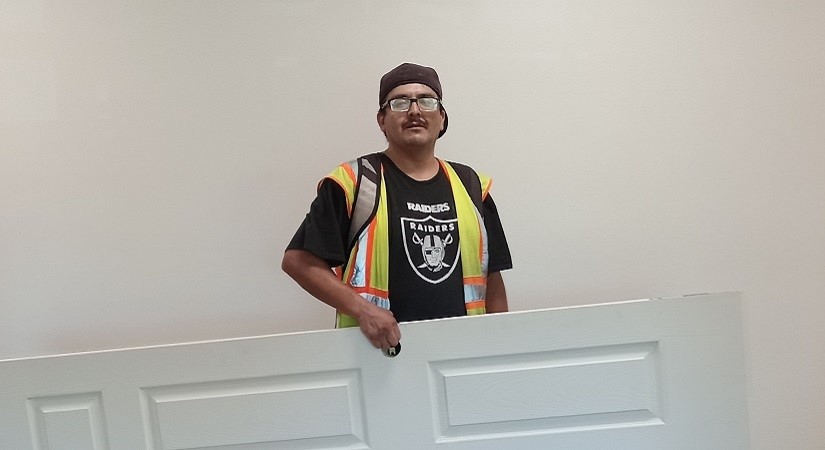 When we asked Vanessa Peoples, Assistant Manager – Service for Mid Atlantic Construction, why she nominated Erwin for a Respect the Craft award, she said, "Since 2019, Erwin has gone above and beyond with every job he's taken. He is always reliable and represents PeopleReady Skilled Trades very well. For example, even when his transportation is down, he finds a way to make it to work."
And it's been a win-win scenario. Erwin appreciates that PeopleReady Skilled Trades connects him with work matching his skillset and provides opportunities to learn new skills as well.
"I've had my choice of jobs in the trades I know," he said. "And I've been able to learn a couple of new trades along the way. HVAC insulation was something I'd never worked with, but I was able to try it. So, that was an exciting project for me."
Erwin is a perfect example of the skilled workers the Respect the Craft program was built for: reliable tradespeople committed to honing their craft, working safely and helping others. That commitment comes through in his words and actions.
"When talking to someone interested in the trades, I stress that being safe at work is really important. I also encourage them to learn as much as they can from other tradespeople. For me, it's been rewarding to meet new people and learn from others. It's an opportunity that shouldn't be missed."
"We're so thankful to have Erwin as part of our team, Vanessa said. "In fact, I just wish that we had more Erwins!"
Learn how we Respect the Craft
PeopleReady Skilled Trades' Respect the Craft tradesperson loyalty program was specially designed to celebrate dedicated tradespeople like Erwin. To learn more about how we show our respect and appreciation, visit: skilled.peopleready.com/respect-the-craft/.
Looking for work?
If you're a skilled tradesperson who is ready to find the perfect job and get the respect you deserve, turn to PeopleReady Skilled Trades.