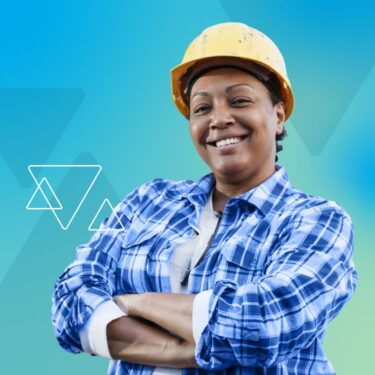 Recognizing Skilled Workers and Tradespeople
Recognizing the talented, hard-working tradesmen and women at the heart of our business goes beyond words. We take the time to show our appreciation for the hours they've spent honing their craft, for their dedication to going above and beyond for our customers and for their commitment to building a better tomorrow.
How do we show appreciation?
With our Respect the Craft program. Respect the Craft is a way for our tradespeople to earn incentives and awards. But it's more than a rewards program — it's a way for us to celebrate their work milestones, share their stories and recognize their dedication to their careers, PeopleReady Skilled Trades and our customers.
How does Respect the Craft work?
INCENTIVE BONUSES
With the Milestone Bonus Program, skilled workers and tradespeople earn rewards as they build their careers. They can earn over $1,500 in cash and prizes by hitting all four milestones!
ANNUAL AWARDS
At the end of the year, we'll name one top performer the Tradesperson of the Year — a title that comes with $5,000! Two runners-up will also receive special recognition.
MONTHLY SPOTLIGHTS
Every month, we select and showcase one tradesperson to be featured in a Respect the Craft Spotlight story. This individual also receives an exclusive Carhartt Respect the Craft jacket.
RESPECT THE CRAFT MONTH
We take extra time to show our respect for the craft throughout the month of May with contests, rewards and recognition across our social media channels.
Note: Workers on solar or marine job sites are not eligible for the Respect the Craft program.
Join our team!
When you join the PeopleReady Skilled Trades team, you know your unique strengths and talents will be appreciated day in and day out, all year long. If you're ready to find the perfect job and get the respect you deserve, get started now by looking for open jobs!
Respect the Craft Spotlights
We're proud to show the world the talented men and women who work tirelessly behind the scenes. Each month we select an active tradesman or woman to feature in a spotlight story.
No results found! Try adjusting the filters.
January 2022

Saloman Cruz

December 2021

Michael Renaldas

December 2021

Ryan Becher

December 2021

Craigen Harris

December 2021

Colis Nunes

November 2021

David Johnson

November 2021

Mark Sensier

November 2021

John Medeiros

November 2021

Philip Forrest

November 2021

Peter Davis

November 2021

Kelvin White

November 2021

Josner Padron

November 2021

Derrick Scott

November 2021

Alfred Malone

October 2021

Striker Haley

October 2021

Zachary Giunta

October 2021

Ronald Warnick

October 2021

Octavio Cortez

October 2021

Jeffrey Gandy

October 2021

Alfredo De La Vega

October 2021

Abdool Ghani

September 2021

Kenneth B.

September 2021

Christopher Anderson

September 2021

Reginald Harris

September 2021

Deon L. Morgan

September 2021

Joshua Baez

September 2021

Christopher Simpson

September 2021

Alfonso Delgadillo

September 2021

Darrick Parker

September 2021

Calvin Yeats

September 2021

Brady Monette

September 2021

Shawn Davis

September 2021

Mathew Flores

September 2021

Wayne Moyer

September 2021

James Fulda Sr.

September 2021

Rasheed Muhammad

August 2021

Mustapha Faye

August 2021

Gordon Jameson

August 2021

Alexander Ingram

July 2021

Manolito Jemison

June 2021

Anthony Whitcher

June 2021

Jackie Robinson

June 2021

Gerardo Covarrubias

June 2021

Jon-David Silva

June 2021

Isidro Gutierrez

May 2021

Willie Crowfield

April 2021

Gregory Taylor

April 2021

Jose Zamora Hernandez

April 2021

Marquez Grayson

April 2021

DeQuavion Shorts

March 2021

Elliot Saddleblanket

February 2021

Dante Johnson

February 2021

Larice Davis

January 2021

Carlo Zarcone

December 2020

Ellison Rahming

December 2020

Fernando Vega

November 2020

James Silva

November 2020

Chris Wideman

May 2020

Courtney Harleston

March 2020

Aaron Van Pelt

February 2020

Marshall Lopez

February 2020

Robert Jacinto

February 2020

Juan Villegas

January 2020

Thomas Fundock

December 2019

Thomas Welch

December 2019

Omari Jackson

December 2019

Matthias Mong

December 2019

Angel Brenman

November 2019

David Ortiz

November 2019

Zachary Ruperti

November 2019

Kurtis Beall

October 2019

Sterling Cato

October 2019

John Corleone

October 2019

Willie Hagan

October 2019

Mister Wright

October 2019

Brandon Majszak

October 2019

Christopher Zamzow

October 2019

Hosea Oneone

October 2019

James Constantine

October 2019

Michael Reynolds

October 2019

Veronica Ruzo
Find
a Job
Work is within reach near you.
Request
Tradespeople
A skilled workforce is within reach.
PeopleReady Skilled Trades is a specialized division of PeopleReady, a TrueBlue company (NYSE: TBI). Since 1987, we have connected tradespeople and work across a wide range of trades, including carpentry, electrical, plumbing, welding, solar installations and more. Whether you need a single tradesperson or require a coordinated effort to dispatch skilled workers across multiple projects, we ensure you have the right people with the right tools, on-site and on time.