Nicole Raymond of Haverhill, Massachusetts
"PeopleReady took a chance on me at a time when no one else did, and for that I will be forever grateful," says Nicole Raymond.
When Nicole Raymond thinks back to her career before starting in the skilled trades, she remembers that she was ready for a change.
"I wasn't passionate about my job, and I really wanted to try something new," she says. "I started in the trades as a general laborer, mostly doing site cleanup, and then took every opportunity that I was given to learn new skills."
Today, nearly five years later, Nicole works with PeopleReady Skilled Trades and finds that her hard work has paid off.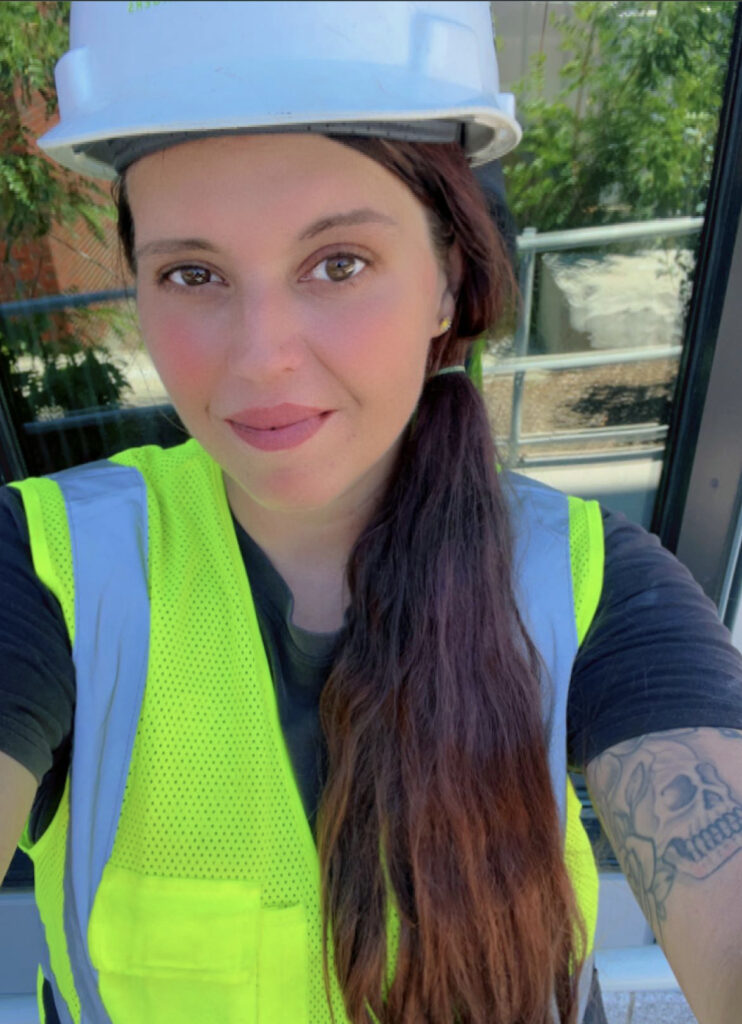 "I am now a labor foreman. I run a crew of laborers on a very large commercial construction project. I also facilitate all of our trades' needs and the logistics of the customer's site."
It's the kind of work that Nicole finds to be interesting and meaningful. Her work assignments have allowed her to be part of building beautiful hotels, luxury apartments and many other breathtaking buildings.
"My favorite part is coming into a job site in the beginning phases, and then getting to see the final product. I take great pride in knowing I was part of something bigger than myself and that my contributions helped complete these finished properties."
One of the most interesting projects she's worked on with PeopleReady Skilled Trades is a high-end hotel in Boston.
"It was 13 levels with stunning views, and it had the most amazing lighting fixtures and finish work. I gained a great new skill by completing a lot of the insulation, fire caulking and drywall inspections."
Ryan Sharp, skilled trades recruiter, shared why he was eager to nominate Nicole for the Respect the Craft spotlight.
"Nicole is a single mother with one of the best work ethics I have ever witnessed—a real beacon for women in construction. For the four-plus years she's been on our customer's site in Boston, she's always gone above and beyond her expected duties. Nicole has never been afraid to work long hours, take charge on the job site or mentor new workers. Most importantly, she goes out of her way to put safety first."
Nicole has come a long way from a job she wasn't passionate about, and she recommends the skilled trades to other workers looking for change.
"The skilled trades provide so many opportunities to learn new skills," Nicole says. "This work has given me self-confidence and I've found a job where I feel passion and pride."
Her experience with PeopleReady Skilled Trades has been overwhelmingly positive, as well.
"I went to work for PeopleReady Skilled Trades because I could use the skills I already possessed and learn new ones," she says. "PeopleReady took a chance on me at a time when no one else did, and for that I will be forever grateful."
Learn how we Respect the Craft
PeopleReady Skilled Trades' Respect the Craft tradesperson loyalty program was specially designed to celebrate dedicated tradespeople like Nicole. To learn more about how we show our respect and appreciation, visit skilled.peopleready.com/respect-the-craft/.
Looking for work?
If you're a skilled tradesperson who is ready to find meaningful work and get the respect you deserve, turn to PeopleReady Skilled Trades.