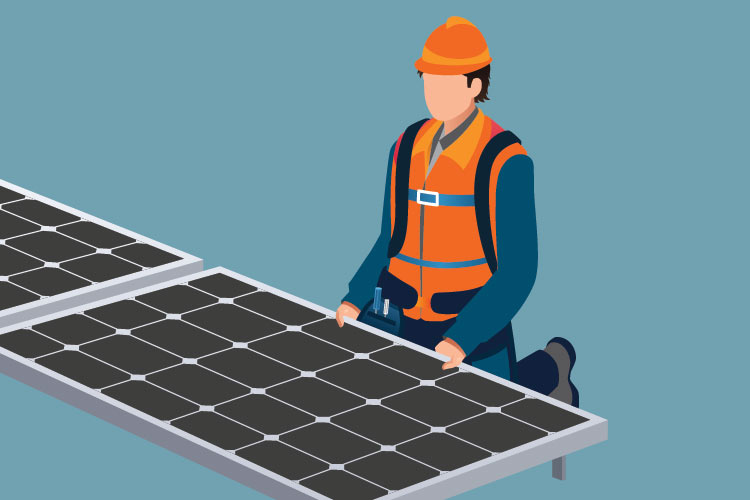 Safety is Our First Priority
This commitment is easily seen in every safety-specific program, process and procedure we create. Below are just some of the steps we have taken and continue to take every day to ensure a safe workforce:
Implement an Injury and Illness Prevention Program (IIPP)
Complete safety-specific assessments for each tradesperson we hire
Require onsite, safety-specific training prior to starting on a new job site
Offer OSHA 10- and 30-hour training to our tradespeople at no cost
Provide standard personal protective equipment to every tradesperson
Our Commitment
It's the combination of the five things above, as well as our right match dispatch philosophy and BeSafe program, that allow us to confidently say that safety is, and always has been, our priority.
Reduce Your Risk
For nearly three decades, we've made it a priority for our tradespeople to meet U.S. employment eligibility requirements. We perform skills tests, integrity tests and various other onboarding and verification processes to ensure that each of our tradesmen and tradeswomen meets our quality standards—and yours.
Personal Protective Equipment (PPE)
To ensure the safest working conditions, proper use of PPE is required by us, our customers and the Occupational Safety and Health Administration (OSHA). At PeopleReady Skilled Trades, we provide standard PPE to all tradespeople as needed, including:
Hard hat
Gloves
Eye protection
Safety vest
Security Clearance
As security regulations and protocols change, government agencies and contractors have increased requirements for security-cleared professionals. PeopleReady Skilled Trades provides cleared professionals that meet today's requirements for project-based opportunities. Plus, they are all fully vetted by our in-house security experts, so you can rest assured that when they show up onsite, they're cleared and ready to work.
Prevailing Wage and Certified Payroll
We can supply tradespeople for prevailing wage projects and provide certified payroll reporting. Bill rates for prevailing wage work will be quoted at the time the order is placed. If the job requires the payment of prevailing wages, you are responsible for informing us when the job order is placed and for providing the wage determination documentation. In some cases, other minimums may apply. If this is the case, your skilled trades staffing expert will let you know.
Have Controlled Insurance Projects (OCIP/CCIP)? Our dedicated wrap-up team handles all enrollment and reporting for specialized insurance-related needs. Enrollment typically takes three to five days to complete and must be done for each contractor's notice of award.
Find
a Job
Work is within reach near you.
Request
Tradespeople
A skilled workforce is within reach.
PeopleReady Skilled Trades is a specialized division of PeopleReady, a TrueBlue company (NYSE: TBI). Since 1987, we have connected tradespeople and work across a wide range of trades, including carpentry, electrical, plumbing, welding, solar installations and more. Whether you need a single tradesperson or require a coordinated effort to dispatch skilled workers across multiple projects, we ensure you have the right people with the right tools, on-site and on time.