Rene Bermudez of Phoenix, Arizona
"No matter where you go, there's always a need for tradespeople."
Rene Bermudez's career path was inspired by his father, Francisco, who worked as a journey-level pipefitter, welder and plumber. Not only did Francisco pass on his skills and knowledge to Rene, but he also referred Rene to PeopleReady Skilled Trades in 2017.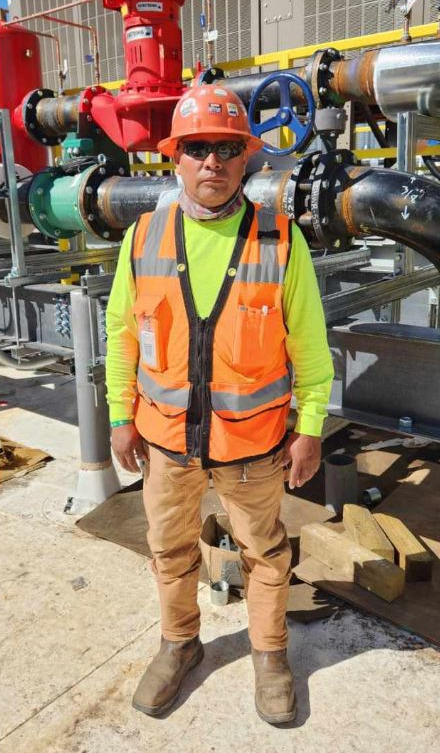 After nearly 30 years overall in the trades, Rene still finds his work to be highly satisfying and rewarding. Among the trades he's worked in, he enjoys pipefitting the most — especially the challenge of working with black pipe, a coated steel product that is more difficult to install than many other types of pipes. He's also grateful for the opportunities that working with PeopleReady Skilled Trades has brought him.
"PeopleReady Skilled Trades has been great to work with and we've developed a relationship over the years. They understand my capabilities and take good care of me, which I really appreciate," Rene says. "I've been able to work on some big projects like hospitals and data centers. I love seeing a completed project and knowing that I helped build something that's important in the community."
PeopleReady Skilled Trades Senior Service Specialist Juliana Ruiz nominated Rene for a Respect the Craft spotlight award.
"Rene has been with us for years and we always get great feedback about him," Juliana says. "Because of his consistently outstanding work, we have a customer that keeps requesting him back for new projects."
"I've been really fortunate to stay with this customer long-term," Rene says. "Going from project to project with them has helped me develop as a pipefitter."
Rene enjoys teaching new pipefitters on the job site, just as he learned from his father. For young people who are considering their career options, there are many benefits of joining the trades, he says.
"No matter where you go, there's always a need for tradespeople. You'll be able to make good money."
Learn how we Respect the Craft
PeopleReady Skilled Trades' Respect the Craft tradesperson loyalty program was designed to celebrate dedicated tradespeople like Rene. To learn more about how we show our respect and appreciation, visit skilled.peopleready.com/respect-the-craft/.
Ready to work?
If you're a skilled tradesperson who is ready to find meaningful work and get the respect you deserve, turn to PeopleReady Skilled Trades.