PeopleReady Skilled Trades Keeps Skilled Tradesman Afloat After Job Loss
"I found myself again," says Alexander Ingram.
After he lost his job of 12 years, Alexander Ingram says he fell into a depression and credits PeopleReady with pulling him out of that dark time.
"PeopleReady kept me working, which kept me afloat," says Alexander, 52, who grew up in North Carolina and now lives in Clifton, New Jersey. "The more I kept working, the more I stopped thinking about what happened. By PeopleReady helping me find work, I found myself again."
Alexander first worked with PeopleReady in Jersey City, New Jersey. Looking for more opportunities to grow his career and boost his income potential, he pursued jobs that required more skill through PeopleReady's specialty skilled trades division in September 2019.
"Alexander is an asset to our team," says Christian Walsh, an account manager with PeopleReady Skilled Trades in northern New Jersey. "He is a go-to for us and never lets us or our customers down."
Christian notes that when Alexander's car was in the shop, he borrowed or even rented a car to make sure he didn't miss work. That type of effort is one reason Christian and Denise Martinez, senior recruiting manager, nominated Alexander for PeopleReady Skilled Trades' recognition program, Respect the Craft.
"His dedication and professionalism on the job, as well as being a veteran, make him a great example of the type of employee we like to represent us," Christian says. "Customers often ask for Alexander to be assigned to their job. We can count on him to join projects and last until the end. He is always a pleasure to work with and a team player."
Alexander credits his upbringing in the south for his strong work ethic.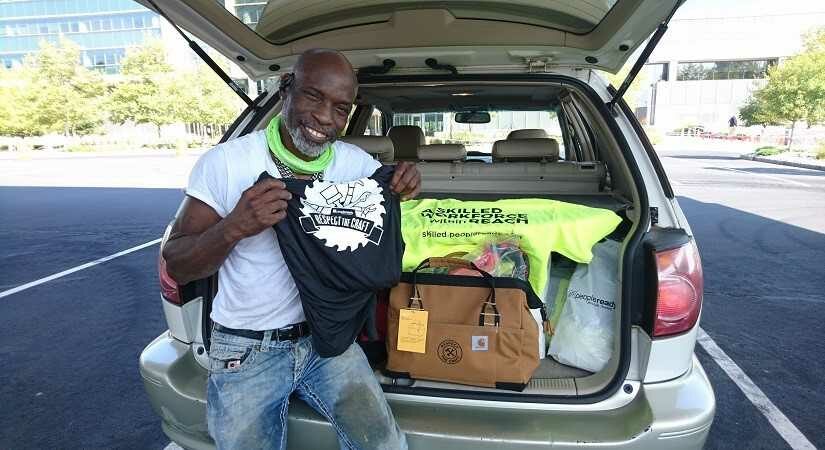 "Ever since I was 10 years old, I always had a job," he says. "I spent summers working in the corn, tobacco and fruit fields where I picked watermelons and cantaloupes. My father and my mother instilled this work ethic in me. My parents told me, 'Nothing is hard unless you make it hard.' That's why I never give up, no matter how hard things are."
He also credits his work ethic to his eight-year career in the Army, including two tours in Afghanistan.
When Alexander wants to learn a new skill or earn a certification, he's quick to take classes, including getting OSHA certifications through PeopleReady Skilled Trades. He then takes the knowledge, skills and experience he's acquired and applies them to the task at hand on the jobsite.
"I take the job description and I always try to go a little above and beyond," he says. "I want to be the best at whatever I do. I don't care what the job is, I'm going to be the best employee there. That's my goal: being a better me each day."
Alexander's father, who died about 10 years ago, owned his own construction business and specialized in laying brick and stone.
"My dad used to bring me to jobs and showed me how to read blueprints. He showed me so much," Alexander recalls.
He and his siblings also helped their mother clean houses and office buildings. At home, they would mow the grass and do other small jobs. Even then, Alexander took pride in a job well done.
The work he does today for PeopleReady Skilled Trades "makes me feel like I have a purpose in life. I own this job. This is my job—nobody's going to take it from me."
Alexander calls himself a "jack of all trades" who may be working with sheetrock one day and concrete or framing the next.
"I'm well rounded in those things," he says, again crediting his father. "I give everything to my father. I think about him when I'm working. I can feel my dad's spirit running through me. I can hear him say, 'Hey, if you don't have anything to do, pick up a broom and start sweeping. Don't just sit there. Keep yourself busy.'"
Proving himself to PeopleReady Skilled Trades is "proving myself to me because that's the only person I'm battling every day: the person in the mirror," he says.
Alexander encourages other skilled tradespeople and laborers to work with PeopleReady Skilled Trades, which has given him the opportunities he was hoping to find. He also looks forward to taking on leadership jobs, such as foreman, with PeopleReady Skilled Trades in the future.
"PeopleReady Skilled Trades has a personal relationship with their workers," he says. "They're consistent with work. They always come back and say, 'We have a spot for you.' Sometimes it may not be in your specialty, but you have a job. You can feed your family, take care of your bills. It's up to you how far you want to take it."
Are you ready to work?
PeopleReady Skilled Trades can help connect you with opportunities, just like we have with Alexander Ingram.
If you're a skilled tradesperson who is looking for consistent work, turn to PeopleReady Skilled Trades.