Longtime Tradesman Finds Work Matching His Skillset with PeopleReady Skilled Trades
"I like making something look good," says Ken Cooney.
Over the course of a career that has spanned about 30 years, Ken Cooney has "tried about everything" in the skilled trades. That versatility, coupled with an excellent work ethic, ensured he was "usually the last guy standing" whenever there were layoffs.
It's also what prompted John Davis, trade recruiter, to nominate Ken for PeopleReady Skilled Trades monthly recognition program, Respect the Craft.
A longtime Florida resident, Ken, 51, started working with PeopleReady Skilled Trades in Miami in 2020. An equipment operator and carpenter, Ken got certified as a scissor lift operator through PeopleReady Skilled Trades. NPSG Global, out of Georgia, put Ken to work as a scissor lift operator in a major e-commerce retailer's fulfillment center in Jacksonville, Florida. His job: hanging 700-plus signs.
"We thought the project was only going to be for a few weeks," John says. "As the days went by, we reached out to Ken's jobsite supervisor to get feedback on how he was doing. We learned that Ken was doing such a great job that they were considering having him travel to different projects outside of Florida."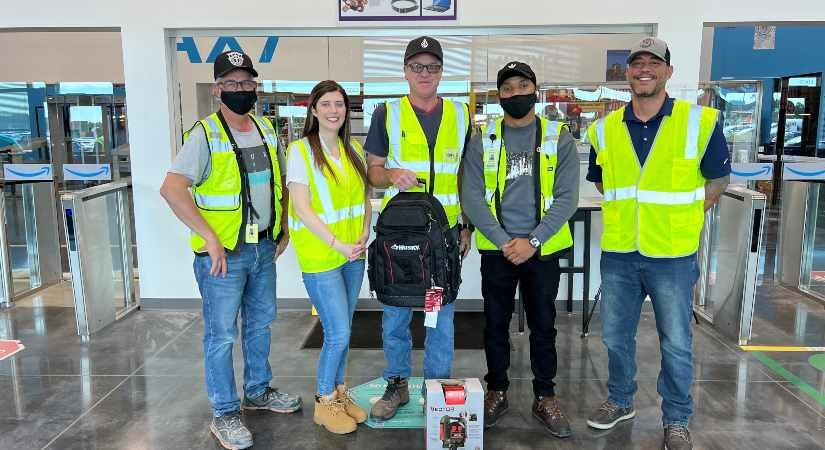 John also learned that Ken had hung hundreds of signs without any mistakes or accidents.
"He went above and beyond his lift operator title, showing up on time, every day, and doing great work for PeopleReady Skilled Trades and our customer," John says.
Ken says he just likes getting a job done — and doing it well. "I like making something look good," he says.
His interest in building things started when he was young. "I had an erector set as a kid," he says. "And construction and equipment operating runs in the family. My father was a tower crane operator, and my grandfather was a general contractor."
Ken started working in the trades as a carpenter. He became a scissor operator when a light-hanging project came along.
"It's not complicated, but a lot of people don't like the height," he says. "You can be 40 feet up and the lift moves while you work."
Ken "went where the work was" when he chose PeopleReady Skilled Trades. "PeopleReady has the work," he says. "They have a great onboarding process. I took the tests and I was hired and went right to work. I like the convenience. It's very easy to find the work when you need it — and PeopleReady Skilled Trades definitely matches your skills to projects."
His advice for anyone considering a career in the trades: "Pick something you like doing. Train yourself or get training online or on the job."
Through PeopleReady Skilled Trades, Ken is working with Hal Jones Contractor to repair and rebuild the Jacksonville Beach Pier, which had been mostly closed after sustaining damage in Hurricane Matthew in 2016 and Irma in 2017. He calls it one of the most interesting projects he's ever worked on.
Ken also enjoyed watching the robots work at the fulfillment center during his PeopleReady Skilled Trades job there. "It was an amazing system," he says. "They look like coffee tables moving through the center and dropping packages around the floor."
Ken is being considered for a full-time job with NPSG Global, the company that put Ken to work at the e-commerce fulfillment center. In the meantime, he will continue to go where the work is with PeopleReady Skilled Trades.
"I'm grateful to PeopleReady for opening the door to so many opportunities for me, including being named a Respect the Craft winner," Ken says. "My goal is always to do a good job. It's great to be recognized for my work ethic and skills."
Are You Ready to Work?
Just like we helped Ken Cooney develop his skilled trades career, we can help you too.
If you're a skilled tradesperson who is looking for consistent work, turn to PeopleReady Skilled Trades.