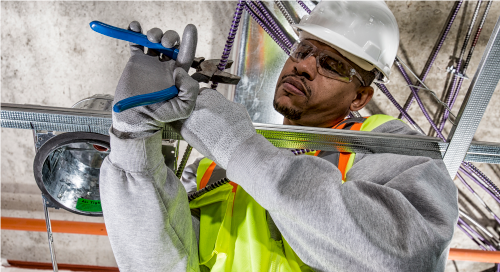 Today's students—AKA tomorrow's skilled craftspeople—are more likely to pursue education at four-year universities than vocational programs. That's been a growing trend in the U.S. for a while, and we're starting to see its effects. You're probably aware that we're in the midst of a skilled tradespeople shortage.
The shortage, however, is about to become worse, according to data from the Construction Labor Market Analyzer (CLMA). While students continue to focus on academic degrees, the last wave of Baby Boomers will hit retirement age in 2029. At that point the economy won't just lose a lot of workers; we'll lose a lot of skilled craftspeople and have far fewer lined up to take their place. At the same time, with a growing population that's living longer than previous generations, the demand for housing, workplaces, and healthcare facilities will also grow. In other words, we'll need tradespeople to build and maintain these places.
There's one big problem that you're probably all too aware of: Becoming a skilled trades pro is a lengthy process. Even if you could hire enough skilled craftspeople to replace the retirees, they would need several years to become proficient in the field. That means the time to deal with this looming problem is right now.
Where to start
Looking at CLMA's projection data, some jobs are at a much higher risk of a skilled craftspeople shortage than others. Carpenters, electricians, and welders show signs of being in short supply over the next decade. Because their skills are used for projects across several industries, they will remain in high demand. That means if they're in your hiring strategy today or in the future, you should be prepared to face several other businesses vying for the same pool of craftspeople.
You can get on the right path now by finding tradespeople who are either new to the field or interested in it. You might already have some of these craftspeople within your organization. You can also work with a partner like PeopleReady Skilled Trades to find those craftspeople. You can not only see what their current skill level is but also request to work with them again if you're satisfied with their performance. It's not only a great way to pipeline talent, but it's also a great way to be part of their on-the-job training so they gain skills relevant to your needs.
How to stay ahead
Finding the right talent is an important first step, but you can't stop there if you want a long-term strategy to beat the skilled trades shortage. When you find the tradespeople who perform well or who show the potential to be strong performers in the future, start training them now.
Many organizations have a formal training program to source and prepare workers to advance in the industry, but you can achieve similar results without one. Arrange to cover the cost of certifications or training for top craftspeople or implement an apprenticeship within your company in order to guarantee they gain relevant experience. Or work with other decision makers in the company to find out what else you can offer.
These programs, both formal and informal, show tradespeople that you are investing in them. When they know you want them to succeed and are willing to help them gain experience, they are more likely to stick with you. They want to work and move up in their careers, and they will remember who provided the time and resources to make them skilled trades experts. You can also join efforts like Generation T, which is working with organizations to attract more skilled trades tradespeople and encourage them to pursue these promising careers.
However you choose to approach the upcoming skilled trades shortage, PeopleReady Skilled Trades believes the time to start is now. The competition will be high and the craftspeople will be scarce if we don't turn this trend around. If you wait until you can't find any craftspeople, you'll be behind the competition and face business risks. That's a gamble no one can afford to take.