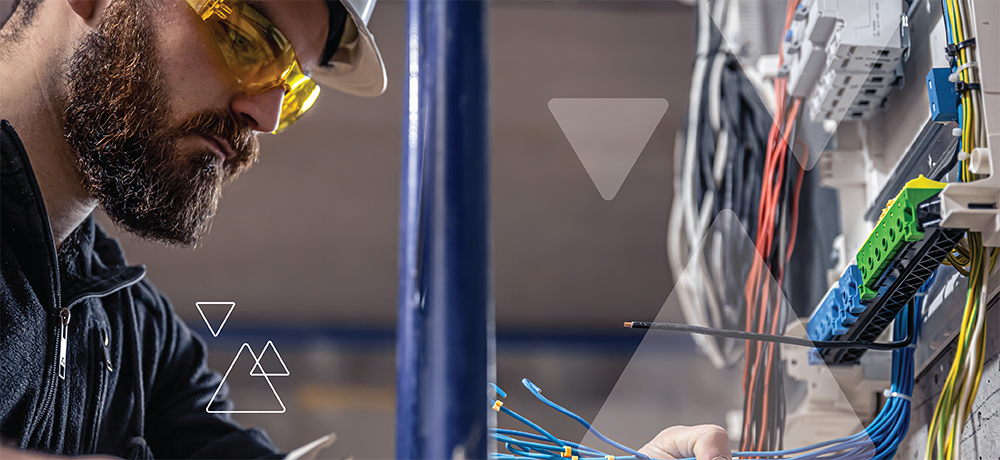 Solutions to the challenges of finding an electrician to hire
Electricians are among the most difficult construction jobs to fill, with 79% of contractors experiencing hiring struggles over the last year, according to the Association of General Contractors. As a result, there is greater competition between companies who want to hire the right people for their open roles. We share five tips that can help make recruiting electricians easier.
Tips for recruiting electricians
Start with the right electrician job posting
A detailed job posting is the first, and maybe the most important, step in your hiring process. Why? The answer is simple: Without a clearly defined job posting, you may not attract the right applicants for your jobs. This might mean spending a lot of time going through applications from people who aren't qualified or having to post the job again, which could cause costly project delays.
So, how should you get started? Review the needs of your upcoming projects and decide what type of electrician you require. This puts you in a great place to create a strong job posting.
Once you've got that nailed down, here are some details you should consider including:
List the types of projects your company typically takes on, or better yet, include examples of projects that your team has recently completed. You want your applicants to have the ability to get the job done and take interest in the kind of work you do.
Note whether you're recruiting electricians for part-time or permanent roles. That way, only electricians interested in the type of employment you're offering will apply.
Specify the type of electrician you need — an apprentice, journeyman or master. Doing so will help attract electricians with the right experience level for your open roles.
Ask your team for electrician referrals
Turn to your current workers for leads on strong candidates. After all, referrals can provide valuable information about a candidate that applications often cannot. Many of your workers have networks to call on from previous jobs or through different trade associations. They may be friends with an electrician looking for work or may know of others with a solid reputation.
When recruiting electricians, it's not only about skills. You also want to find someone who fits the company culture. If one of your current team members refers someone, it can be a good indication that they would fit in well at your company.
There are long-term benefits to using referrals as well. When you act upon the recommendations of your workers, it shows you value their input. As a result, they will be more engaged and feel valued by the company, which ultimately contributes to improved employee retention over time.
Create a process for interviewing electricians
When looking for electricians, it's important for all candidates under consideration to be interviewed. During the interview, ask questions about their previous experience, the responsibilities at their current job and their reasons for wanting a new role.
You can also ask open-ended questions that will highlight their problem-solving skills, decision-making abilities and awareness of safety protocols. Consider questions like:
Can you describe the types of projects you have worked on?
What licenses, certifications or training programs have you completed related to electrical work?
How do you stay up to date with the latest electrical codes and regulations?
How do you ensure compliance with safety protocols and maintain a safe work environment?
Screen electrician candidates to verify qualifications
Thorough screening is one of the most important parts of the hiring process. Electricians and all other hires need to be compliant with labor and employment laws and must be able to work within your specific environment.
You may also want to consider reaching out to a candidate's former employers. They can verify the electrician's credentials and work ethic while helping to ensure a good fit for your team.
If the candidate worked for themselves prior to applying to your company, ask for the contact information of previous clients who can attest to their skills. If you are working with a staffing agency, they may offer vetting and background check services as part of their electrician staffing solutions.
Work with a staffing agency for your electrician staffing needs
According to the Pew Research Center, early retirement of electricians increased in 2020 and 2021, spurred in part by COVID-19. This puts electricians in high demand and heightens the hiring competition among construction companies.
If you're looking for your next electrician hire, a staffing agency can help you meet your electrician staffing needs. An electrician staffing company can simplify your hiring process, saving you time and resources. They can also provide guidance on market trends and emerging skills, ensuring that you make informed hiring decisions.
Whether you are recruiting electricians for short-term or long-term projects, a staffing company gives you flexibility to meet your changing workforce needs. With their expertise and vast network, you can find the skilled electricians needed for your projects.
Electrician staffing solutions from PeopleReady Skilled Trades
Looking for help recruiting electricians for your company? PeopleReady Skilled Trades can partner with you to create a customized plan that works for your unique construction staffing needs.
Every electrician we recommend is skills tested and vetted to help ensure you receive qualified tradespeople. We can fill open positions across the U.S., whether it's a single electrician or several electricians across multiple locations.
Our staffing experts also understand that every project is different. To provide comprehensive electrician staffing solutions, we have access to many different types of electricians, including:
Commercial electricians
Industrial electricians
Linemen
Maintenance electricians
Residential electricians
Wiremen
If you need help recruiting electricians for your projects, contact our team today.
Electricians needed for your company?