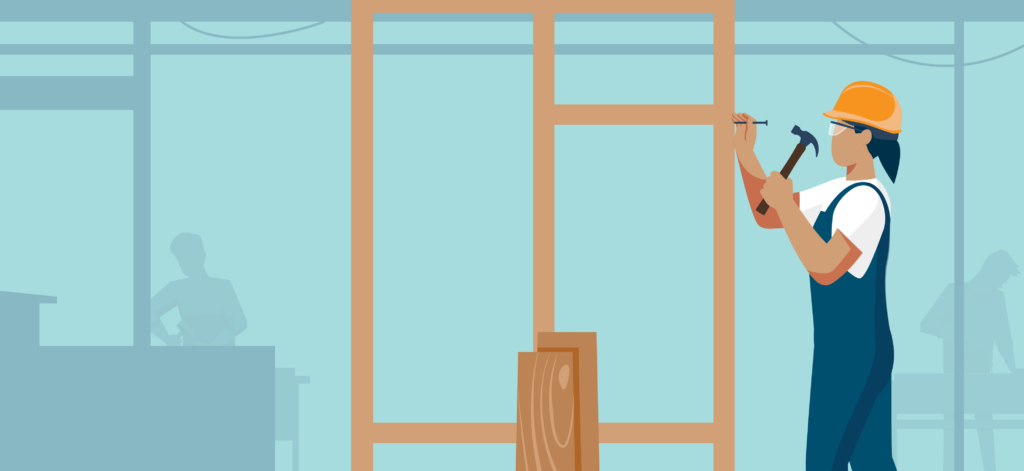 How do I find a carpenter to hire?
Over 90% of construction companies had difficulty finding a carpenter to hire in 2022, according to a survey by the Associated General Contractors. As a result, the competition between companies to attract the best carpenter needed for a particular project has only increased. A staffing agency can help cut through the competition and match you with carpenters looking for work sooner. In this article, you will learn more about the types of carpenters that PeopleReady Skilled Trades can provide you for your current and upcoming construction projects.
What types of carpenters looking for work near me can you provide?
A carpenter is one of the toughest jobs to fill in construction, according to many industry experts. While there are several types of carpenters that you might need for a particular project, here are a few of the most popular:
Rough carpenters
Rough carpenters are important in the early stages of a construction project. They focus on the stability of each new build by studying blueprints and assembling the necessary framework and supports. While they frequently work with wood materials, a rough carpenter will also work with a variety of other popular materials, like steel or concrete.
Rough-in carpenters play a major role in new construction projects, but they also provide valuable support for home or business renovations. In addition to creating new frameworks and supports, they inspect for signs of decay and other issues that could impact the integrity of the structure during renovation projects.
Whether they are working on new builds or renovations, rough-in carpenters are well-versed in building code regulations. This helps ensure their work is of the highest quality and passes inspections.
Find rough carpenters here.
Finish carpenters
While rough carpenters build the structural components, finish carpenters — also known as trim carpenters — are brought in to build out the interior of a building. A finish carpenter is in charge of how a space looks and feels. They not only install trim, but also handle built-in shelving units, cabinets, doors and flooring.
The finish carpenter needed for your next project will look at the project's blueprints and other interior drawings to measure and ensure all plans are followed properly. Working closely with interior designers and architects, they make sure the final result matches the vision for the space. Finish carpenters also use their woodworking skills to create custom pieces when needed. For example: wainscoting and mantles.
Find finish carpenters here.
Formwork carpenters
Formwork carpenters — sometimes shortened to form carpenters — help create a strong foundation for construction projects by ensuring that concrete forms are built correctly and according to plan.
When you are looking for a formwork carpenter to hire, it's important to make sure they know how to assemble all major types of forms. For example, forms may be made of steel, wood and heavy plastic.
Then, once the form is built and the concrete is poured and set, formwork carpenters will remove the forms and prep them for the next job.
Find formwork carpenters here.
Punchlist carpenters
At the end of a project, contractors create a list of work items that may not fall under the duties outlined in the contract. These tasks often include making minor alterations or repairs, removing debris or returning equipment. That's where punchlist carpenters come in.
Every list of work items will look different based on the type of project — residential, commercial or industrial. Punchlist carpenters should be able to tackle each work item independently using a wide range of construction skills and a strong attention to detail.
Their duties may include completing or correcting installations, repairing incidental damage and making any final decorative adjustments that may have been missed along the way.
Find punchlist carpenters here.
What can your staffing company do to make carpenter staffing easier?
According to the Bureau of Labor Statistics, the skilled labor shortage is one of the biggest challenges facing the U.S. economy. In fact, there are 650,000 open jobs in the construction industry alone. This puts extra strain on your existing workforce and can impact deadlines.
Working with a staffing agency can help you overcome this hiring challenge. They have vetted and onboarded carpenters who are ready to get to work right now. But that's not all.
Whether you need project-based, temp-to-hire or permanent carpenters, a staffing agency can also provide customized staffing solutions. If you haven't worked with a staffing agency before, ask them detailed questions so you can be matched with the best carpenters for your company.
PeopleReady Skilled Trades is the carpenter staffing partner you need for your construction projects
Looking for a carpenter to hire? What about many carpenters across several locations? Look no further. PeopleReady Skilled Trades can design a customized, scalable staffing plan that will help you control costs, reduce risks and take on new projects.
So, if you're wondering, "Is there are carpenter staffing agency near me?" check out our locations page to get started.
Looking for a carpenter to hire?