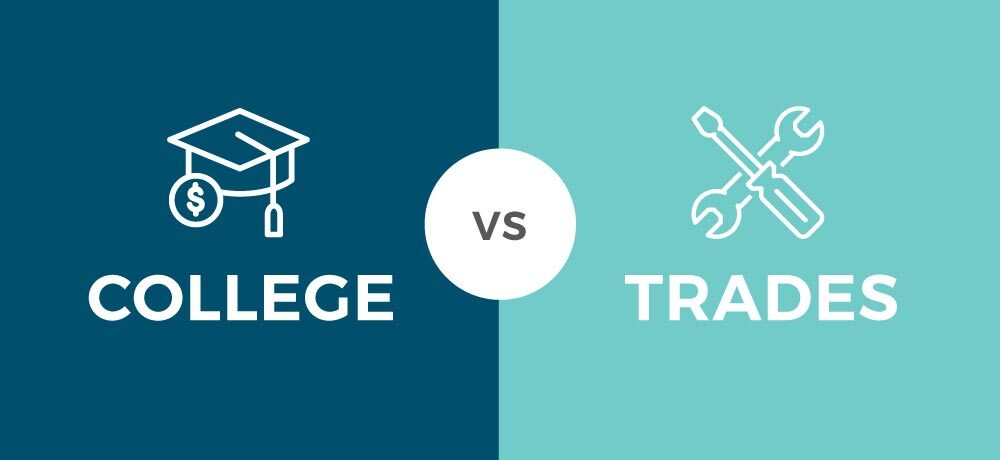 7 Things That Point to Careers in the Trades
Too often, students who do well in high school are steered toward college and degree-related careers and away from trade school and careers in the trades.
But the truth is you need smarts — and so much more — for careers in the trades, not just for college.
If you're wondering, "Should I go to college or trade school?" here are seven things to keep in mind as you weigh your options and make your decision.
College vs Trades
Time: Building skills and knowledge takes time, whether you choose careers in the trades or college. You'll need to complete 120 total credit hours to earn a bachelor's degree, which takes — on average — four years. Trade school can take between six months to two years, depending on which program you choose. So, if you want to enter the workforce in two years or less, trade school is the route to go. Want to get your foot in the door sooner? Become a general laborer on a job site — PeopleReady can help connect you with jobs in the trades where you can gain experience and build new skills.
Skill and knowledge building: Your college years aren't just about building hard skills and knowledge. They're also about gaining the soft skills employers highly value in employees, like critical thinking, communication, leadership, teamwork, problem solving, time management and more. While trade school is laser-focused on training you for jobs in the trades, you can still learn those same soft skills offered in college from seasoned skilled tradespeople — your teachers — who know first-hand the importance of them. Bonus: You'll learn them in less time (see No.1).
Cost: No doubt about it, a college education is expensive. In 2020-21, the average estimated budgets (tuition and fees, room and board, and allowances for books and supplies, transportation and other personal expenses) for full-time undergraduate students ranged from $26,820 for public four-year in-state students to $54,880 for private nonprofit four-year students, according to College Board's Trends in College Pricing. For many students, that required taking out student loans: $28,800 on average per borrower per year, according 2018-2019 data from the College Board's report. If you attend trade school, the average cost is $5K-$15K depending on the trade school and the program you choose. Things to keep in mind: You will not have on-campus room and board; you'll finish in less time; and you can start earning a paycheck in your field sooner (see No. 1).
Earn while you learn: While you may be fortunate enough to land a paid internship in college for a semester or so, most college jobs aren't related to your field of study. Conversely, for jobs in the trades, a paid apprenticeship can be a great alternative or supplement to trade school. According to the U.S. Department of Labor, 94% of apprentices who complete an apprenticeship retain employment with an average annual salary of $70,000. Check with local employers for available apprenticeships — or check out the apprenticeship job finder on the U.S. Department of Labor website.
Return on investment: Without a doubt, earning a college degree can position you well for good-paying jobs—how much depends on your field and job title. But we all know a college graduate who can't find work in their field, so they take on a non-degree related job — sometimes at minimum wage — to help pay their student loan debt and other expenses. Skilled trade jobs are booming in the pandemic economy — in fact, employers are struggling to fill jobs in the trades. To determine ROI, calculate what you'll gain in the long run, salary-wise, versus the cost of trade school or college.
Pay: A college degree in any major can advance your earning potential, according to Brookings. But earning potential varies tremendously by major. Earn a psychology degree, for example, and you can expect a median starting salary of $42,313, according to PayScale. Then there are bachelor's degree jobs that can lead to $100K+ salaries, such as computer and information systems manager and petroleum engineer — among others, according to the U.S. Bureau of Labor Statistics (BLS). Jobs in the trades pay well — and you won't have huge student loan payments taking a chunk out of your income. According to the U.S. BLS, the median annual wage for electricians was $56,900 in May 2020 with the highest 10% earning more than $98,720; $56,330 for plumbers and pipefitters with the highest 10 percent earning more than $98,990; and carpenters $49,520 with the highest 10 percent earning more than $87,410.
Job stability: In 2019, according to the National Center for Education Statistics, the employment rate was higher for those with higher levels of education. For 25- to 34-year-olds with a bachelor's or higher degree, for example, the employment rate was highest at 87 percent. It was 80 percent for those with some college and 74 percent for those who had graduated high school. But while millions of Americans affected by pandemic job loss are still looking for work, the number of skilled trade jobs in the U.S. is far outpacing the supply of qualified workers to fill them, according to a new analysis by PeopleReady Skilled Trades. Take the solar industry for example: As lockdowns and restrictions due to the pandemic began to disrupt the solar energy market, utility-scale solar construction was generally unaffected. Designated essential work, large-scale solar construction went on to represent 73% of all solar installed in 2020, according to The Solar Foundation. Despite pandemic-related challenges, the U.S. solar market set an annual record in 2020 with 19.2 gigawatts (GW) installed, according to the Solar Energy Industries Association (SEIA). The SEIA estimates an additional 324 GW will be installed over the next decade.
Still wondering, "Should I go to college or trade school?" Here's our 2 cents: There's never been a better time to choose careers in the trades over college. And if you partner with PeopleReady Skilled Trades, we'll help connect you with careers in the trades that fit your experience and lifestyle. Whether you're looking for jobs in the trades in your community — or across the country — explore the skilled trade career opportunities that await you.
Want to Work with PeopleReady Skilled Trades?