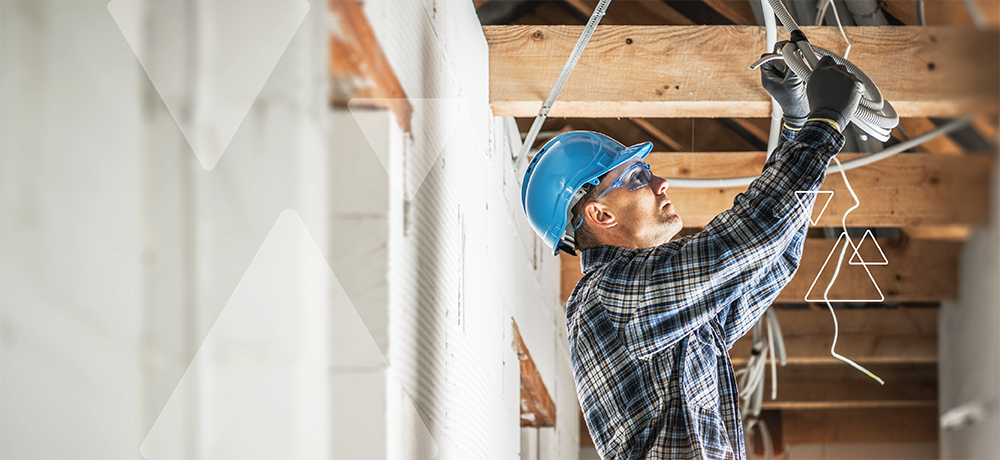 What to know about partnering with a staffing agency for your electrician staffing needs
The U.S. currently needs about 80,000 new electricians every year, according to the Bureau of Labor Statistics. That means construction managers all around the country will be asking themselves, How do I hire a local electrician? If you're thinking about working with a construction staffing agency, here are some questions to ask so that you find the electrician needed for your company.
Details an electrician staffing agency should provide
What sets your company apart from other electrician staffing agencies?
Every staffing agency has unique qualities that may benefit your business. A staffing agency with a solid reputation and a track record of success is more likely to be reliable and effective, making this a point of distinction.
Ask the staffing agency for testimonials from other customers or examples of their top projects over the years. This will help you determine if the agency's services align with your needs.
What types of electricians do you provide?
Each project is different, and there will be times when electricians with specific specializations are required. Here are some examples of electricians that a staffing agency can provide:
Commercial electricians
Industrial electricians
Linemen
Maintenance electricians
Residential electricians
Wiremen
What kind of job experience do your electricians have?
Staffing agencies with industry experience have a better understanding of the specific skills and qualifications required for your open roles. The skill levels of electricians needed on your jobsite might include:
Apprentices: Apprentice electricians are in the early stages of their career and can be a great investment in your future. They bring a fresh perspective and new ideas — and will be eager to succeed and grow with your business.
Journeymen: Hiring a journeyman can provide an experienced worker while remaining within your budget. Journeymen have completed an apprenticeship program or have otherwise gained the necessary licenses and qualifications required to work in the trade.
Masters: Master electricians have a strong combination of classroom training and thousands of hours of hands-on experience under their belts. They can commit to complex or long-term projects and help guide other electricians on your team.
What is your screening process for electricians?
To minimize risks and ensure project success, it's important to verify that electricians have the necessary skills and experience. The electrician needed will often undergo a screening process by the staffing agency.
What's involved in the process? It should include skills testing and vetting to ensure that the electrician to hire meets your quality standards as well as state and federal regulations.
How do you ensure that your electricians follow safety regulations?
Safety should be a top priority for any staffing agency. The electrician needed for your construction company must follow all safety standards and protocols.
By working with a staffing agency, you establish a consistent approach to safety practices. This reduces the likelihood of miscommunication and potential injuries.
A staffing agency should provide basic PPE, tools and equipment to their electricians and all tradespeople on the jobsite. They may also offer access to safety training programs such as OSHA 10 training.
Can you help us create a staffing plan?
Whether you require an electrician for an upcoming project or need to fill unexpected vacancies, the right staffing agency can help you stay agile and ready to adapt to changes. Consider working with an agency that offers flexibility and can help you create a plan that's built to last.
The ideal staffing agency will work closely with you to understand your organization's goals and specific workforce requirements. They will analyze factors such as project timelines and seasonal demands.
It is even better if your staffing agency has team members local to your area. This will give them easier access to the electricians needed for your projects.
What additional services does your electrician staffing agency provide?
Along with recruiting electricians, certain staffing agencies also offer other valuable services. When choosing a staffing agency, it's best to prioritize those that offer comprehensive support throughout every step of the hiring process.
What are some examples? These support services might include worker verification, skills testing and payroll administration for each electrician to hire.
These additional services offered by staffing companies can help you save time and ensure your recruiting success.
Should I work with more than one staffing agency to find electricians?
Given the high competition encountered when looking for an electrician to hire, you might think that working with multiple staffing agencies at once will fill roles faster. However, there are many benefits to choosing just one staffing agency for all your staffing needs.
Overall, working with just one staffing agency makes the hiring process more efficient and helps keep your projects moving forward. This streamlines communication and eliminates the need to manage multiple relationships, saving you time and effort.
Also, having a single point of contact ensures better alignment with your overall staffing strategy. This gives you a consistent standard of quality and provides valuable peace of mind.
PeopleReady Skilled Trades is the staffing partner you need for hiring electricians
Looking for an electrician to hire? PeopleReady Skilled Trades has extensive experience in recruiting electricians and other skilled tradespeople. We can offer insight into your construction staffing strategy based on your specific needs while taking the local job market into account.
If you're wondering, "Is there an electrician looking for jobs near me?" check out our locations page.

Is an electrician needed for your company?