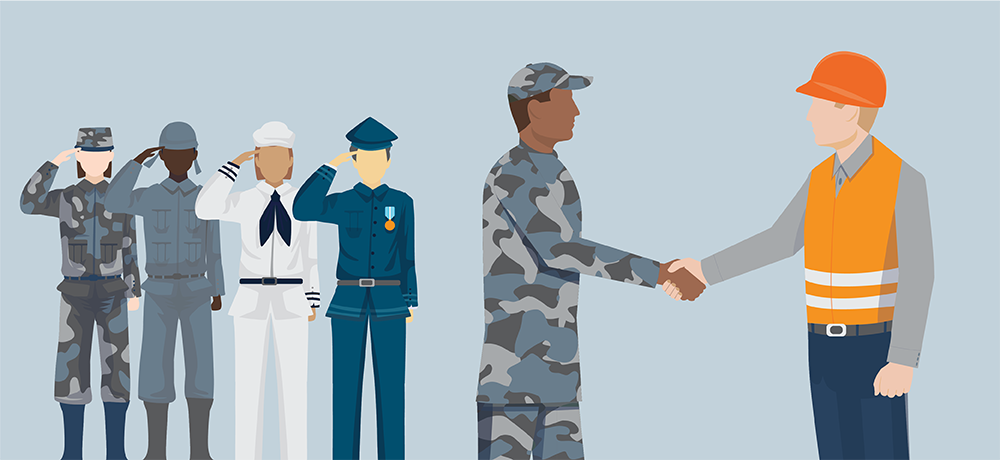 Nearly 90% of construction companies had difficulty filling positions, according to a 2023 Associated General Contractors of America and Autodesk survey. Most construction companies cited a lack of qualified tradespeople, due in part to the 3 million early retirements that occurred during the COVID-19 pandemic.
In times like this, the construction industry must expand its search to find quality candidates who can get the job done. Military veterans represent a highly valuable talent pool because they possess skills that can be applied across different roles and have a robust work ethic. Meanwhile, the high demand for workers, opportunities for advancement, and veteran-friendly work environments make it an appealing career choice for those transitioning from military service.
Unfortunately, veterans comprise a small percentage of the construction workforce today. How many construction workers are veterans? According to the BLS, only 6.5% of the current construction workforce is made up of veterans. In this article, we share the advantages of welcoming veterans into your company and provide valuable insights on how to attract veterans in your construction hiring efforts.
Benefits of hiring veterans for your construction company
Why do construction companies want to hire a veteran? It's simple. The military has equipped them with many skills that are highly valuable in various trades. For example:
Technical skills
Many veterans have technical skills that can be beneficial for your construction projects. For example, they have often worked with tools and operated heavy machinery during their time serving our country. This past training and experience can help them quickly adapt to your needs on the construction site.
Teamwork skills
Teamwork plays a vital role in maintaining workplace morale and productivity. During their military service, veterans received extensive training in teamwork, all in pursuit of a common goal. As a result, they possess strong discipline and problem-solving abilities, making them a great asset on any jobsite.
Leadership skills
Veterans exhibit a strong work ethic and have a high level of motivation and determination. Over time, they will frequently stand out as ideal candidates for leadership roles, whether it involves mentoring new team members or stepping into managerial positions.
Safety training
Veterans have a clear understanding of safety procedures and protocols along with a mindset of protecting the safety of their team. They are already well-trained to avoid risks and take necessary precautions, which can help prevent injuries and accidents.
Flexibility and adaptability
Veterans in the trades are used to working in challenging environments and adapting to sudden changes. While they often work in teams, they are also comfortable working individually. Similarly, veterans are taught to be resourceful and resilient. As a result, they may be well-suited to the changing conditions frequently encountered on construction projects.
Workforce diversity
The construction industry, like many others, faces labor shortages. To address this, employers are looking to tap into previously underrepresented talent pools, such as women, minorities and veterans. Adding veterans is an effective way of diversifying your team. This can ultimately lead to fresh perspectives and improved productivity.
As you can see, a veteran recruiting strategy brings unique skills and experiences to the construction industry. So, how do you start hiring veterans in construction?
Tips on how to succeed in veteran recruiting
There are some key elements to consider when recruiting veterans in the trades. Here are five effective tips on how to attract veterans to your open roles.
Provide clear job descriptions
When creating job descriptions, be specific about the skills and experience required for the jobs available. This can help ensure that people with the right skills, experience and training are applying for your jobs, including veterans. If applicable, you can also use the job description to state that relevant military experience qualifies veterans for the role.
Partner with local veteran organizations
There are a number of trade programs for veterans and organizations aimed at helping them transition into careers in construction. Reach out to veteran organizations, such as the American Legion, the Military Officers Association of America (MOAA) or Veterans of Foreign Wars (VFW), to share information on job openings in your company. These organizations can also help you identify potential candidates in your area.
Attend community networking events and job fairs
Although recruiting often takes place online these days, in-person events can help you connect with veterans seeking work. We recommend attending job fairs, trade schools for veterans and other networking events in your community. Outside of veteran-specific trade schools, you can also reach out to local campuses that have a strong ROTC presence. This gives you an opportunity to meet veteran job seekers in person and discuss jobs with your company.
Highlight opportunities for career growth
Those who retire or separate from the military don't always re-enter the workforce with a degree. However, they are often looking for careers with opportunities for career growth and development. Be sure to emphasize the potential for advancement within your company and provide regular information on training and development opportunities.
Emphasize the importance of teamwork
Veterans are used to working as part of a team and value camaraderie. Make sure to highlight the importance of teamwork on your construction sites and build a work environment that encourages a sense of community and shared accomplishments.
By following these tips, you can attract veteran candidates who can bring the skills and dedication you need for your construction projects. But what if you need a little extra help recruiting veterans and other workers for your construction company?
Advantages of partnering with a staffing agency for hiring veterans in construction
Partnering with one of the leading construction staffing agencies can simplify the process of recruiting veterans to your team. This partnership offers additional benefits, such as:
Convenient access to reliable, qualified workers
Industry knowledge and expertise
Scalable solutions that match changing needs
Reduced administrative burden
As a construction staffing agency, PeopleReady Skilled Trades provides employment opportunities to persons of all backgrounds — including veterans — while making it easier for companies nationwide to find reliable workers. We can help you find construction workers who can fill a variety of roles, including carpenters, electricians, plumbers, pipefitters and more. Best of all, our staffing experts work with you to develop a staffing strategy that's customized to your company's specific needs.
Looking to hire construction workers?