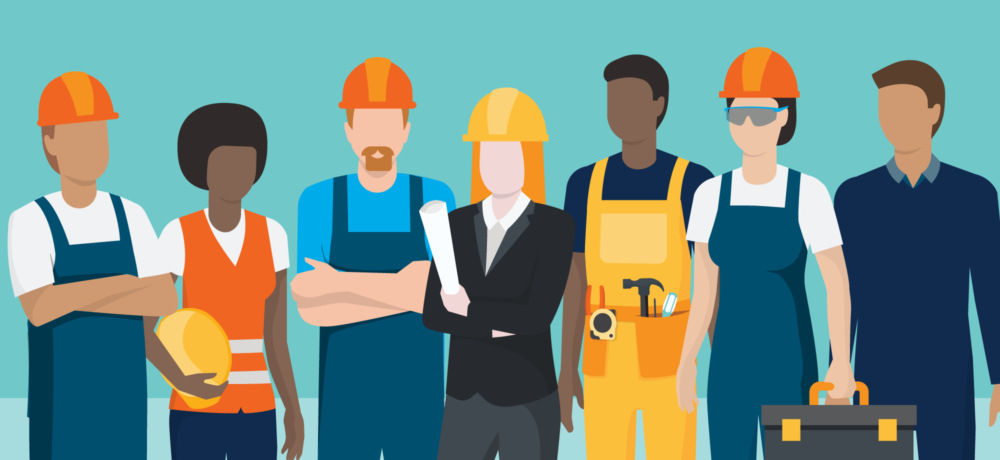 10 Best Entry-Level Construction Jobs
While the COVID-19 pandemic slowed or stalled many industries, the construction industry has not stopped. Deemed essential work, projects continued. The challenge? Finding skilled tradesmen and tradeswomen to do the work during a seemingly ever-increasing construction worker shortage. So, what's the good news? This worker crisis has led to opportunity: jobs and more jobs, not just for seasoned construction workers but also for those with minimal experience in the industry.
"The beauty about the construction industry is many jobs that we have don't require formal four-year education," Steve Cona, President and CEO of Associated Builders and Contractors, told ABC News. "So, what we are seeing is a lot of people who went to college, have all this debt are now coming to the construction industry. We are training them up and they are having plentiful careers in our industry."
The possibilities are endless for entry level construction workers to start their careers in construction. According to the U.S. Bureau of Labor and Statistics, the industry is expected to grow 5 percent through 2029, with critical demand for entry level construction jobs and construction apprentice jobs. That growth is compounding the industry's hiring crisis.
Companies across the nation have been scrambling to find skilled tradesmen and tradeswomen to fill the hundreds of thousands of jobs needed to complete their ongoing projects. According to a press release from PeopleReady Skilled Trades, one of the leading skilled trades staffing providers in the United States, most of the high-demand jobs are geared towards candidates looking to start their own careers in construction. "These are steady, well-paying jobs that hold a bright future, even in an unpredictable economic climate," said Jill Quinn, executive leader of PeopleReady Skilled Trades.
Interested in taking advantage of the booming construction industry and the resulting opportunities? Here are 10 entry-level construction jobs that are readily available:
Plumber apprentices: As a plumber apprentice, you will work alongside an experienced plumber on a variety of jobs, from assembling pipe sections to installing everything from dishwashers to toilets. Other assignments may include preparing the scope and layout of a project or detecting and locating leaks. Postings for construction apprentice jobs for plumbers have increased by 24 percent in March and are unoccupied for 29 days.
Roofer apprentices: One of the construction apprentice jobs that is almost always urgently hiring is roofing apprentices. Job postings for roofer apprentices have skyrocketed by 50 percent in March and remain unfilled on average of 39 days. In addition to learning how to lay roofing materials on everything from homes to commercial buildings, you will develop skills such as reading blueprints, understanding building codes and improving your math skills.
Carpenter helpers: Another construction helper job offering competitive pay is a carpenter helper. As a carpenter helper, you will learn to read blueprints and assist in the design and installation of structures and fixtures made of a variety of building materials. Job postings for carpentry helpers have increased by 12 percent in March and remain available for 28 days.
Carpentry apprentices: As a carpentry apprentice, you will be taking on one of the most versatile construction apprentice jobs in the industry. If you are passionate about building things with your hands, you can elevate your skills by learning alongside an experienced carpenter. Assignments range from cutting materials using different tools to working with metal and wood framing components. Job postings for carpentry apprentices have increased by 33 percent in March and remain unfilled for approximately 31 days.
Laborers: Entry-level construction jobs seem to always be in demand — especially now. If you want to roll up your sleeves and get to work on day one, here's your opportunity. In this position, you will assist skilled tradesmen and tradeswomen as well as machine operators on a range of projects, from erecting and breaking down scaffolding to smoothing out new concrete. The jobs are diverse, and work is immediately available. Skilled labor job postings have increased 57 percent in March and continue to be vacant for 29 days.
Electrician helpers: Under the guidance of an experienced electrician, you will learn the craft of electrical installation and repair. As one of the most intricate construction helper jobs, you will need to learn a diverse set of skills, from planning and diagraming electrical systems to assisting in the disassembly of defective electrical equipment. Openings for these positions have increased by 15 percent in March and stay unoccupied for 27 days.
Ironworker apprentice: If you enjoy a little adrenaline rush from time to time than an ironworker apprenticeship could be right for you. Along with reading blueprints and welding, you may find yourself on steel beams six stories high. Additional jobs may require you to assemble scaffolding or occasionally direct crane operators. Postings for this role have increased 66 percent in March and remain open on average of 26 days.
Mason's apprentice: Like other construction apprentice jobs, you will have the opportunity to work alongside an experienced professional. Projects in masonry apprenticeships usually involve working with brick and other prefabricated stone materials. You will learn how to build brick walls or construct stone structures and more. Mason apprenticeship opportunities have increased by 33 percent in March and remain unfilled for 44 days.
Linemen apprentice: The duties of a linemen apprentice include constructing, managing, and restoring electricity, both overhead and underground. Your physical workspace will change regularly — for example, you might find yourself working from an aerial boom one day and climbing a tower the next. Linemen apprenticeship openings have increased 16 percent in March and sit vacant for 32 days.
Sheet metal apprentice: This is one of the entry-level construction jobs where you may find yourself working indoors one week and outdoors the next. It is also a physically demanding job and involves working with all types of sheet metal materials. As a sheet metal apprentice, you will work alongside an experienced worker to install and repair a wide array of products, such as eaves-troughs or heat and air ducts. Sheet metal apprenticeship openings have increased by 10 percent in March and remain available for 32 days.
You've Learned About the Best Entry-Level Careers in Construction. Now What?
Are you already an apprentice or skilled helper looking for your next gig?
Look no further! PeopleReady Skilled Trades can connect you with more entry level construction jobs that fit your schedule and match your career in construction goals. Take a look at the positions available right now.
Are you looking to get into an apprentice program?
Great — There are tons all around the country. Check out apprenticeship.gov and find apprenticeship programs near you. Once you've completed your program or racked up some hours doing skilled work on a job site, take a look at all of the open job opportunities at PeopleReady Skilled Trades by visiting skilled.peopleready.com/jobs/.