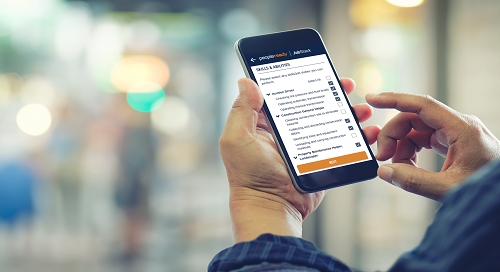 Your safety on the job site is paramount. Whether you know it or not, you're the most important person to someone. So ensuring you're taking all the steps you can to protect your health and well-being should always be top of mind. However, when you work a number of jobs with rotating job sites, locations and duties, it can be difficult to know what to expect from your work each day.
With just a little bit of preparation and insight, you can be steps ahead for safety and make sure you're heading home at the end of the shift safe and sound. Read 4 simple ways that PeopleReady says will help you put safety first:
Mind Your Schedule
You know your schedule better than anyone. A recruiter, manager, boss, supervisor, or co-worker won't know if you pulled an all-nighter studying or had back-to-back shifts the day before. It's important that you get the rest and recovery time you need to be alert and focused on the job – and you're the best person to know when that time will be. With flexible work, the shifts and hours aren't always your normal 9-to-5, meaning you can decide what shifts work with your schedule and allow for the time you need for your health. Think about any events, activities, or obligations that might affect your schedule—and then find shifts that work around and with your needs.
Knowledge is Power … and Safety
The more you know about a job site before you head there, the better off you'll be. From the personal protective equipment (PPE) to the location to the conditions, learn as much as you can about what to expect before you even leave for the shift. When you have a clear understanding of the type of work you'll be doing and what's needed, you can be sure to prepare in advance and come equipped with everything you need to do your job safely.
Health + Safety Go Hand-in-Hand
Do you think about your health and safety as separate? Your health is how you feel day-to-day, whether you're sick or feel well generally. When you feel ill or like you might not be up to the tasks being asked of you at work, you're much more likely to have an unsafe experience. For example, if you have a fever and spend several hours outside as a flagger, your conditions could worsen making it difficult to pay attention to your work. When you're not alert on the job, mistakes can happen – and can put your safety at risk. That, in turn, puts others at risk, too. If you feel your health isn't up to par, listen to your body and don't do work where your safety could also be in jeopardy. We understand that health issues come up and make it so you can't go to work: make sure you contact your recruiter or branch rep as soon as you feel you can't work. Maintaining a good relationship with the customer is important so you have the opportunity to work once you're feeling well again.
Your Skill Set Matters
Even within the same industry, not all jobs are the same. Some will require skills that you may not have yet while others are ideal for your abilities. Rather than put yourself in front of potential hazards by trying to do a job you're not skilled for, focus on roles where you can do your best and do it safely. If your goal is to work jobs where specific skillsets might not even be required, but necessary, let your branch rep know. There are plenty of resources, classes, and certifications available to you so you can safely head in to a work setting and excel without putting your safety at risk.
Work with a staffing partner who values your safety as much as you and your loved ones do. Even better, find a staffing partner that builds these precautions into their processes so you have the support you need. You can use an app like JobStack to tick off these safety boxes, with the ability to see job information and requirements before you decide to take them, have access to your branch rep through text message and mobile, and look at the different shifts available. Learn more about how to make JobStack work for you!