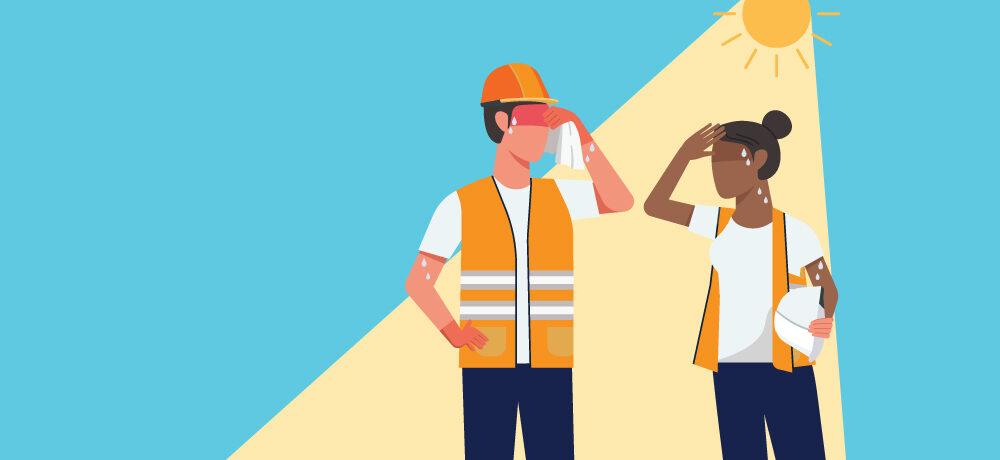 Follow These Tips to Keep Cool and Stay Safe on the Job Site
No doubt about it: It's hot out there — particularly if you live and work in states like Texas, Louisiana, Florida and Oklahoma, which rank high for hottest summer temperatures. For tradesmen and tradeswomen working in non-climate-controlled environments, it's crucial that you keep yourself cool to keep yourself safe.
Now is the perfect time to talk about summer construction safety tips and answer questions from "How do construction workers keep cool in the summer?" to "How can construction workers recognize heat-related issues?"  
Summer construction safety is an important topic given the fact that thousands of people become ill each year while working in extreme heat or humid conditions, according to the Occupational Safety & Health Administration (OSHA).
Read these summer safety tips for construction workers and then share — not only with other tradespeople and laborers, but with your employer. If you're working through a tradeswomen and tradesmen staffing agency, make sure you're working for one like PeopleReady Skilled Trades that's committed to keeping you safe year-round — not only in the summer.
10 Summer Safety Tips for Construction Workers
Build your tolerance. According to OSHA, nearly 3 out of 4 heat-related deaths happen during the first week of work. If you're new to working in a hot environment, it's essential that you allow your body to adjust and build up a tolerance. Not doing so opens you up to heat illnesses — and even death. 
Water. Rest. Shade. That's the safety message from OSHA's Heat Illness Prevention campaign. These three are so important we're giving each of them their own tip. 
Water. Staying hydrated is key to staying safe. OSHA recommends drinking cool water even if you're not thirsty — at least 1 cup every 20 minutes. And stick with water: Sugary and highly caffeinated beverages like soda and energy drinks can promote dehydration, thus increasing your chances of a heat illness.  
Rest. Take breaks to cool down and hydrate. If you're a new or returning worker who's not yet acclimated to working in the heat, take more frequent breaks until you build up your tolerance.
Shade. Limit your exposure to direct sun by taking a break in a shady and/or cool spot.
Dress appropriately. Whenever possible, wear a hat and clothing that's both light-colored and breathable. If you're wearing a face mask, change it if it gets wet or dirty.
Look out for each other. Pay attention to how you're feeling — and while you're observing yourself, keep an eye on your coworkers too. How do you know if you or your coworker is experiencing a heat illness? OSHA says to be on the lookout for headaches, nausea, weakness/dizziness, heavy sweating or hot dry skin, elevated body temperature, thirst or reduced urine output. In the event of any of these warning signs, move to a shady/cool spot, take off any unnecessary clothing, drink water and otherwise cool down with ice and a fan, if possible.
Get help. If you or a coworker experience abnormal thinking or behavior, slurred speech, seizures or loss of consciousness, call 911 immediately. Unsure if you're experiencing a heat-related emergency? Don't hesitate: Call 911.
Stick together. If you or your coworker suspect a heat illness, don't leave one another alone. Again, seek medical care and call 911, if needed. Stay together until help arrives.
Check out this app. Designed to prevent heat stress among workers, the OSHA-NIOSH Heat Safety Tool features real-time heat index and hourly forecasts specific to your location — as well as occupational safety and health recommendations from OSHA and NIOSH (National Institute for Occupational Safety and Health). This app is available in both Google Play and the App Store.  
PeopleReady Skilled Trades makes safety a priority for our specialized tradespeople all year-round. Our commitment to safety goes beyond sharing summer construction safety tips. We infuse safety into every process, procedure and program, including BeSafe, a program that ensures tradespeople like you are kept safe across a project's entire lifecycle. Keeping you safe is just another way PeopleReady Skilled Trades demonstrates our respect for the craft — and the amazing tradespeople who work for us across the country.
Ready to work with a staffing agency that's committed to keeping you safe?