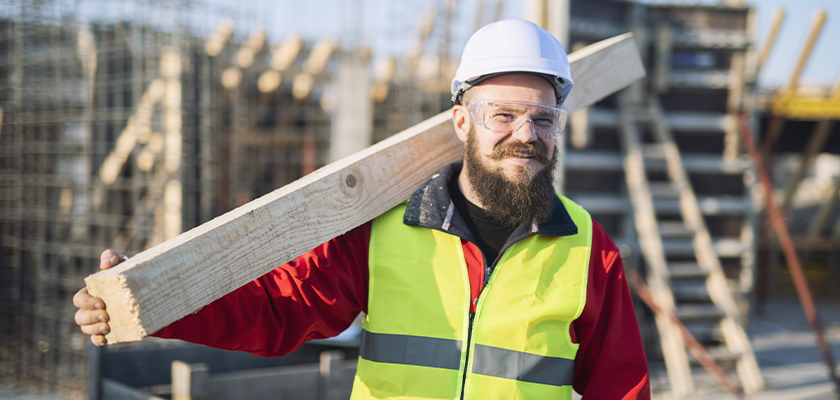 The COVID-19 pandemic has greatly impacted the construction industry and caused many businesses to reevaluate the way they conduct projects and how they manage their staff. New safety procedures were implemented on job sites, including proper social distancing and the increased use of personal protective equipment. During this unprecedented experience, businesses are constantly adapting to keep people healthy and projects moving forward.
Workforce Shortages Reaching a Critical Point
That may prove to be an even more daunting challenge given the workforce shortage that has plagued the construction industry for years. In July 2018, there were 7.2 million jobs in construction industry, according to the U.S. Bureau of Labor Statistics. Through 2026, BLS projects faster-than-average employment growth.
The pandemic has outlined just how valuable the construction industry is to the future of our country. But even now, workforce shortages remain one of the single greatest threats to its success. Eighty percent of contractors have trouble finding talent to fill the craft positions that represent the majority of the industry's workforce, according to an industry-wide study the Associated General Contractors (AGC) of America conducted with Autodesk.
Without a strong workforce, companies are unable to complete projects in a timely fashion. The U.S. has experienced a skilled-trades talent gap accelerated by retirement, staff turnover and a reduced focus on trade education in high school. About half of America's skilled trade employees are approaching retirement age, according to the Manhattan Institute. And they aren't being replaced quickly as they are leaving the field: An estimated 2.4 million jobs may be unfilled by 2028.
In a study performed by Marcum's national Construction Services group:
41% of pre-pandemic respondents chose "securing skilled labor" as the No. 1 threat to their businesses.
67% of post-pandemic respondents projected either the same or higher backlogs.
Staffing Solutions for Your Construction Business
During the Great Recession of 2008–09, construction businesses often furloughed or laid off workers and eliminated apprenticeship programs that would have encouraged long-term careers in the industry. Many current or potential employees left the field and never returned.
Workforce shortages that make construction projects more costly and slower to build run the risk of undermining a business's success. To combat these workforce shortages, construction businesses can leverage temporary craftspeople to supplement their critical workforce needs as they contemplate their long-term staffing strategy.
Using temporary craftspeople solves three of the most important initiatives for today's construction businesses:
Meeting deadlines: Especially in a time of unprecedented delays and disruptions, construction businesses that fail to act quickly can be at a disadvantage. Temporary craftspeople make it easy to scale your workforce and add talent on an as-needed basis to improve productivity and get projects done. If the craftsperson turns out to be a good fit, businesses may even consider hiring them on a permanent basis.
Reducing stress: According to the ADP Workforce Vitality Index report, the construction industry has an average turnover rate of 58.4 percent. The main reason why employees leave? Feeling overworked. The problem has been compounded by COVID-19, which has heightened their concerns about health and wellbeing on the jobsite and at home. By supplementing your full-time workforce with temporary craftspeople, your business is better positioned to maintain a safe and healthy working environment while providing permanent crew members the extra help they need.
Performing specialized tasks: In some cases, you may need additional support from those who have specific experience or expertise to complete projects. Temporary craftspeople can bring specialized skill sets that your full-time staff may not be able to provide. Hiring short-term employees who own the training or technical skills you need can fill important gaps in your workforce and help you capitalize on new opportunities.
Temporary craftspeople can help with new construction builds, clean-up and sanitizing efforts, maintenance tasks, and other valuable projects so that your business stays on track—providing some stability in a time of uncertainty.
Construction businesses can reduce the time and costs related to recruiting, screening and hiring new employees by partnering with a staffing agency. For convenient access to a skilled workforce ready to fill open positions and shifts quickly, contact PeopleReady Skilled Trades today.