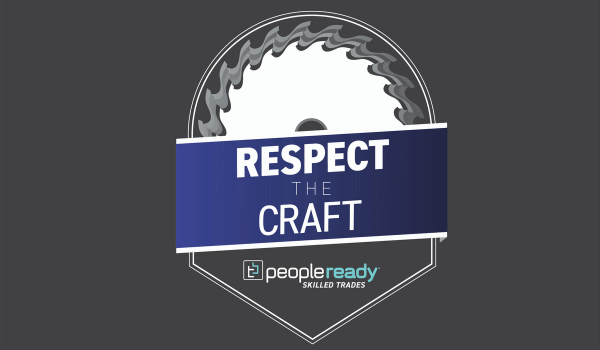 Our tradesmen and tradeswomen are the reason we come in to our desks, our offices, and our branches each and every day. For PeopleReady Skilled Trades, we know how important it is to demonstrate our appreciation for our teammates. Most recently, we've done this through our Respect the Craft program.
What is Respect the Craft?
Designed to reward some of our hardest-working team members, the program enters workers who meet attendance guidelines into a monthly drawing for a grand prize. Those who have worked a full week without tardiness or no-shows have the opportunity to win a big screen TV and the entire team is treated to lunch on site.
The effects of the Respect the Craft program have been immediate and palpable. We've seen our associates get excited about the contest and work diligently to qualify. Not only has attendance improved, but morale has experienced a large uptick. Our Skilled Trades customers are also joining in on the action, helping to award the grand prize and contributing to make associates truly feel integrated into each team.
The Respect the Craft program is only one of the ways that we support our workers; we focus on safety at all times, helping our associates be some of the safest on the job. We are also committed to helping our associates develop and grow their skill sets, making sure we pair them with the right customer so they may continue to learn in environments that fit them.
We understand that the skilled trades ache for new talent as the worker pool shrinks, but the bottom line is that with PeopleReady Skilled Trades, we don't stop. We don't stop supporting our associates or our customers. In the end, everyone wins.