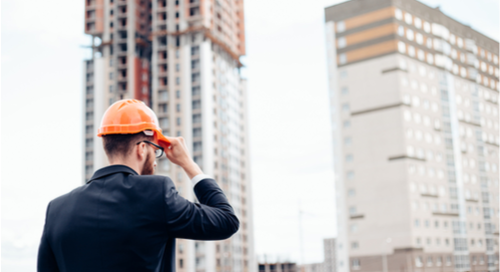 When your business is met with a disaster of any type, you're dealing with an intense situation that requires order and composure in the midst of chaos. You need to move as quickly as possible without sacrificing quality or safety during large loss events. Pardon the term, but it's a perfect storm of high-stakes matters. That's why you need to be thorough about choosing a staffing partner that will ease your stress and deliver the results you need.
PeopleReady has made the selection process a bit easier by putting together five questions you need to ask your staffing partner. The last thing you want is to work with someone whose lack of experience means more stress (and expenses) for you.
Who's my point of contact?
Think about how frustrating a call to the bank can be. From tracking down a phone number, navigating through a series of menus, and then you're lucky if you finally make your way to a human. If you need to call back, the process starts all over again—and this time you're speaking to a different person who doesn't know anything about your situation. Don't find yourself in that predicament during a disaster.
At PeopleReady, you won't get bounced around having to repeatedly explain your situation. PeopleReady has the staff and resources to address all of your needs—and you have one person dedicated to help you get everything done. No more phone tag.
Do you have centralized billing and invoicing?
Even during large loss situations, you need to handle billing and invoicing. Workers are eager to get paid and you don't want a backlog of administrative tasks to get to.
We centralize billing and invoicing so the entire process is streamlined. Plus, our 30 years of experience gives us insight into the complexity of insurance requirements.
What can your app do?
The question today isn't, "Do you have an app?" but rather "What does your app do?" When you're moving between job sites (or disaster sites), you don't want to be chained to your desk to get anything accomplished. After all, you might not even have access to your computer. A mobile app enables you to be more productive with less worry.
JobStack lets you do all of the above—and it's available for PeopleReady customers at no additional cost. Order workers (and reorder the ones you liked) and approve hours from the convenience of your phone. And if you do prefer to do all of this via a desktop computer, you can use the online portal to from there instead.
Do you use remote recruiters?
One size does not fit all when it comes to large loss events. When you need people, you don't always have time to wait until you're there in person. Recruiting needs to begin immediately—especially for large-scale efforts.
PeopleReady has the ability to recruit remotely. As soon as you contact us, we can begin finding the candidates you need, wherever you need them without delay.
Do you provide on-site teams?
Remote recruiting doesn't eliminate the need for on-site help. Finding the right people is one task; getting them ready to work at the job site is another matter. Regardless of how great your technology is, you can't ignore the value of in-person resources.
PeopleReady has over 600 locations and our teams are prepared to help onboard and ensure your job begins on time. We're committed to helping you get the right people to work through every step of the process.