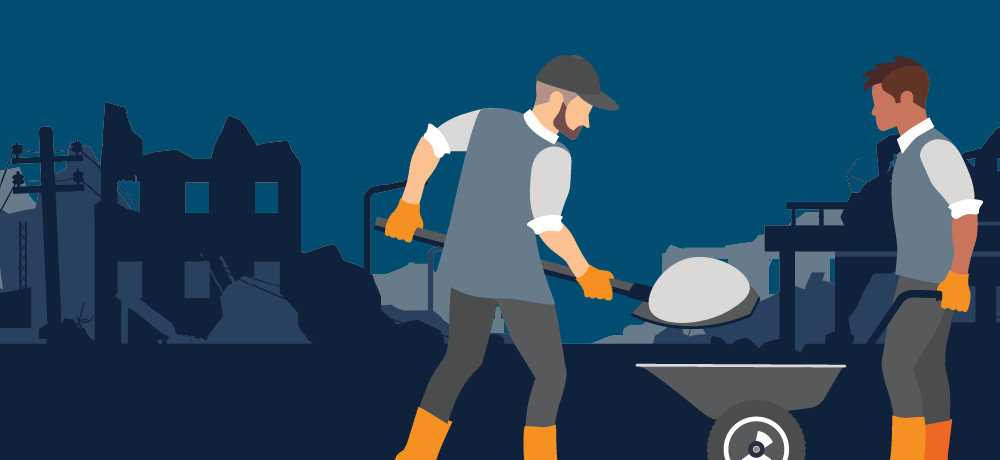 Jobs in Your Local Community to Serve People in Need
Every year natural disasters ranging from floods to hurricanes to tornados impact communities around the country. During these difficult times, businesses of all types are looking to supplement their workforce. You can earn money while making a difference in your local community by taking work opportunities on disaster recovery and restoration projects. Here you'll discover four skills and personality traits that will help you excel in these roles. Plus, we share the best ways to find current jobs in your area.
Practice good communication
Strong communication skills play a big part in disaster relief. During a time of crisis, you need to be quick, direct and efficient as you update other team members on current needs. Engaging well with colleagues at every level in the organization allows you to bring added value to the project at hand.
Be flexible and adaptable
When working disaster relief jobs — whether it's a flood in Texas or a hurricane on the East Coast — there will be many moving parts. To be successful in this environment, it takes someone who can think quickly on their feet and use critical thinking paired with common sense. As a result, you can make decisions that will ultimately support your whole team.
Have the right attitude
In the aftermath of a natural disaster, things will likely not run as smoothly as they would under normal circumstances. This can lead to hiccups like scheduling mishaps and delays in deliveries or approvals. If you're someone who can weather last-minute changes, you can be a great asset to disaster recovery and restoration operations. In addition, showing patience and compassion is key.
Follow safety guidelines
Having great attention to detail when following schedules or instructions will help your team get the job done. Disaster relief workers often need to work on job sites where personal safety must be constantly top of mind. Staying safe and alert on the job will help keep you safe in these circumstances. Suggested safety tips for these jobs include:
Properly use PPE provided by your employer.
Understand the boundaries between contaminated and uncontaminated areas.
Watch out for structural integrity issues caused by fire or flood damage and avoid walking on surfaces that are unstable.
Support your community by working disaster response jobs
PeopleReady connects you with many roles for disaster restoration and recovery on our website and through our app, JobStack. For example, these roles include:
Cleanup crew members
Debris removal workers
Equipment setup assistants
Labor supervisors
And more
When you're looking for a job that lets you earn money and make a real difference in your community, PeopleReady can help.