When a string of unprecedented natural disasters struck last year, from hurricanes to wildfires, the call for helping hands was at a peak. All the way from Virginia to California to Hawaii, disaster response was crucial; even the Federal Emergency Management Agency (FEMA) struggled to find the personnel to deploy.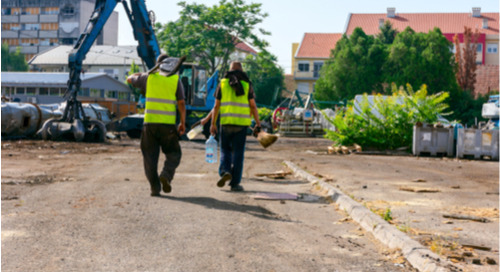 During these hardships, the checklist of items to manage can seem overwhelming—and when staffing your business comes into the mix, it can become even more daunting. Not only are your operations off track, but you're also concerned about the safety and well-being of your team as you try to move as quickly as possible.
There are actions you can take in preparation for storm season to protect your processes and ensure you're equipped with the tools needed to combat a natural disaster, protect your team and assets, and quickly react when issues arise. Below are some of the keystone actions to have ready in the event a natural disaster does impact your business.
Employ a Full Team
Your regular staff members may not all be available or accessible at this time, and there simply isn't much you can do about this. Instead of running understaffed or putting your team at risk, find out how utilizing a staffing partner can help bolster your team during your most crucial times. When your staffing partner operates on a nationwide level, you have access to workers outside of the affected area—meaning your business needs don't need to suffer due to understaffing. Best case scenario? Use a hiring tool that connects you with thousands of workers 24/7, no matter where you are, such as PeopleReady's mobile app, JobStack.
Move Quickly
When the demand for help is high, agility is critical. When almost every move is time sensitive, being able to make decisions on the fly makes an enormous difference. You'll want to have the ability to place orders, outline your specific needs, and accept and review orders wherever you are: you never know where you might need to be at any given time. Whether on your desktop or your mobile phone, you can do everything you need to for your temporary staffing from JobStack, immediately and with instant updates in real time.
Utilize the Right Skills
Not only do you need a team of workers to help get your operations back on track, but you also need workers suited to your specific requirements. Whether you're searching for a crew of general laborers or a few additional workers with hospitality experience, finding the right worker for your job is easy and quick with JobStack. Looking for an individual with HAZMAT training? You can find them and even request certain people who have worked for you before to return. If someone didn't meet your expectations for any reason, you're able to track and rate workers to make sure you only get those who fulfill your needs moving forward.
When you're able to handle your staffing needs simply and quickly, you're able to focus on the other aspects of your business where your expertise is needed. Let PeopleReady help you prepare for the times when you need them most and get started with JobStack now.