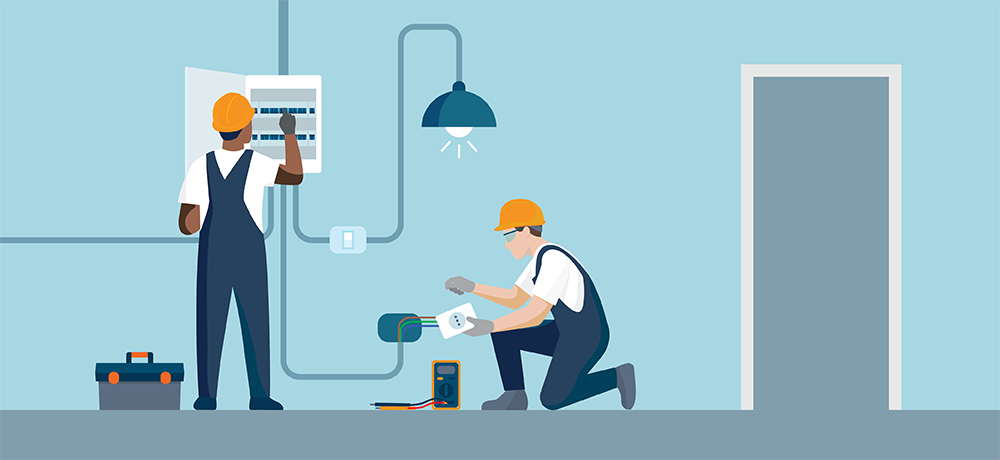 The key to recruiting electricians for your construction company
The growing demand for electricians is driven by many factors, including an increase in renewable energy projects, expected infrastructure updates and the continued expansion of e-commerce. And as older electricians retire, there will be many more jobs to fill. What is the job outlook for electricians? The U.S. Bureau of Labor Statistics forecasts 7% growth in electrician job openings from 2021 to 2031, faster than other trades.
As a result, companies in a variety of industries, including construction, manufacturing and retail, will need electrician staffing solutions that help them find the professionals they need. The construction industry in particular could be impacted by a shortage of electricians, as highlighted by Electrical Contractor Magazine. In this article, we share three ways that partnering with a staffing agency can make finding the right electricians easier for your company.
Benefits of working with staffing agencies for electrician staffing solutions
Convenient access to electricians looking for work
Construction companies often struggle to find electricians and other tradespeople because they rely on traditional recruitment methods such as online job boards and word-of-mouth. Unfortunately, this approach can make it difficult to find an electrician to hire due to the limited number of qualified applicants. It becomes even harder if your company operates in communities with a smaller pool of candidates.
Partnering with a staffing agency can expand your recruiting efforts to include groups you may not be reaching. Staffing agencies have strong industry networks in addition to relationships with trade schools, colleges, and community and governmental organizations. These connections help their staffing experts to provide electrician staffing solutions quickly so that your company meets deadlines.
The ideal staffing agency for your company will specialize in construction staffing. Their recruiters often have firsthand experience or have worked in the industry for years. This helps them provide customized electrician staffing solutions that ensure your success.
Time savings in your electrician staffing efforts
The time it takes to hire an electrician depends on many factors, including your local job market and the complexity of your project. This process could span a few weeks or even longer, which could create challenges for your construction company.
A staffing agency that provides electrician staffing solutions can significantly increase your chances of getting the right electricians when your company requires them. Their specialized experience and resources can make all the difference in finding the tradesperson you need, faster. They often have access to electricians who are ready to work and possess the skills and experience needed to get the job done.
But that's not all. The staffing agency also takes care of every step of the recruiting and screening process for you. This includes skills testing, vetting and onboarding before your electricians arrive on the jobsite. As a result, you can get the reliable electricians you need while freeing up time for other important tasks.
Flexible solutions for your electrician staffing needs
Since every company has unique staffing needs, a staffing agency should be able to provide tailored electrician staffing solutions that work for your specific requirements. Depending on your situation, you may need an electrician for a short-term opening, a single project or a long-term role. Staffing agencies are able to match your company with electricians that fit your needs.
If you wish to evaluate a worker before committing to a permanent role, the staffing agency can connect you with candidates on a temp-to-hire basis, giving you the chance to assess their skills and culture fit. A staffing company can ensure a seamless transition should you decide to bring the employee into a full-time role within your company.
Even after placing electricians with your company, the staffing agency will offer ongoing service so that you are satisfied with their services. This level of support ensures you can enjoy peace of mind, knowing that your staffing needs are being met.
How to find the right electrician staffing agency for your construction company
Choosing the right electrician staffing agency is crucial for your company's success. So, how do you ensure that you have chosen the right staffing partner for your electrician staffing needs?
The first step is to check out our list of top questions to ask your electrician staffing agency to find skilled electricians for your projects. This will allow you to assess their expertise and help you determine if they are the right staffing company for your specific requirements. By asking these questions, you can find a reputable staffing agency that can provide top-notch electricians who will get the job done.
PeopleReady Skilled Trades supports your electrician staffing needs
If you need electricians for your current or upcoming projects, PeopleReady Skilled Trades offers a wide range of electrician staffing solutions. With a local presence in many communities across the U.S., we can connect you with qualified and reliable electricians.
Whether you need a single electrician or several electricians across different jobsites, we've got you covered. You can rest assured that when PeopleReady Skilled Trades is recruiting electricians, we thoroughly vet each candidate to help ensure their skills, experience, safety awareness and work ethic.
We understand that your company may need workers with specialized skills and experience. That's why we offer many types of electricians for your projects. For example:
Industrial electricians
Commercial electricians
Residential electricians
Maintenance electricians
Linemen
Wiremen
Contact us today to see how we can help you find electricians and other tradespeople such as carpenters, welders, plumbers, pipefitters and more.

Are you looking for an electrician to hire?