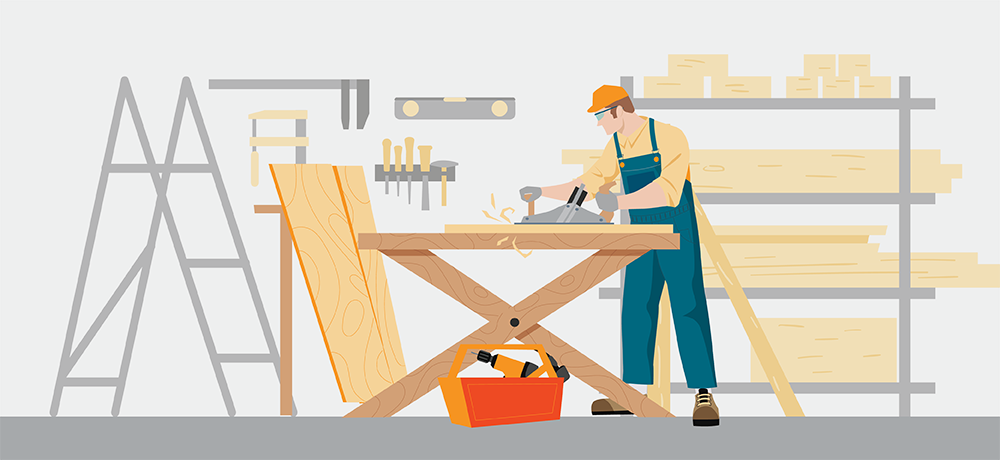 How do you find the best carpenter to hire?
Eighty-five percent of contractors had trouble finding carpenters for their business in 2022, according to an Associated General Contractors of America survey. This is leading to greater competition between companies who want to attract the best carpenters in their local area.
Searching for specific qualities can match you with the right carpenter much faster, giving you a competitive edge in the market and ensuring your projects remain on schedule. We offer five tips to help you find and hire the best carpenters looking for work in your area.
Carpenter staffing tips
Clearly define the role and expected projects for your carpenters
Creating a job post for a "general carpenter" might attract a lot of candidates, but it can take more time to find candidates with the right skills or experience. The longer the hiring process takes, the more likely it is to impact your deadlines.
That's why it's important to create job postings that define the role clearly and answer questions the carpenter needed might have. This includes a list of duties and the experience necessary for the role. After all, if the job calls for a master carpenter, you don't want to spend time sorting through applications from apprentices and journeymen. The same goes for the type of carpenter needed. Rough carpenters will have different skills compared to a finish carpenter, for instance.
You should also describe the type of jobs or projects in your job postings. Some carpenters are looking for permanent roles, while others prefer the variety of working on different projects. By being specific about what kind of projects you work on most often, you can attract the right candidates and get them working sooner.
Ask for referrals from your current carpenters and tradespeople
Good carpenters recognize other good tradespeople, and your existing team can help you find a qualified carpenter to hire. Current employees are familiar with your process and can recommend people who are more likely to meet your expectations.
According to a LinkedIn study, referred employees stay longer at a company compared to those sourced from job boards. Hiring referrals can also have a great impact on your current team. When a candidate referred by one of your team members gets hired, it shows that you trust and value their opinion. This can boost employee morale and retention over time.
Simplify future hiring efforts by establishing an employee referral program. Referred employees can decrease the time and money spent on hiring, as noted by LinkedIn. Some companies offer gift cards, extra vacation days or other incentives if the employee's referral gets hired.
Check licenses and certifications of your carpenter candidates
The type of carpenter needed depends on many factors. To make your search easier, decide what level of experience you require from a carpenter. Apprentice carpenters are new to the trade while journeyman or master-level carpenters have more extensive training and experience. Keep in mind that the licensing requirements vary between states.
Certifications are another significant differentiator between candidates. Carpenters can complete programs to earn certifications, giving them enhanced proficiencies and desirable skills. There are many certifications that carpenters can earn.
Among the many certifications options are the Occupational Safety and Health Administration's (OSHA) Outreach Training Program's 10-hour and 30-hour safety courses. These certifications provide extra insight into workplace safety protocols and hazard prevention techniques that can benefit all workers in the company.
Check references of carpenters looking for jobs with your business
One way to ensure that you have the carpenter needed is to contact their previous employers. If the carpenter typically works on their own, you can check out their reviews online or ask for other references. This helps you learn more about their skills and experience.
In addition to evaluating a candidate's skills and qualifications, the hiring process should always include a background check. This ensures that the carpenter meets all legal requirements and can work for your company without any issues.
Need confirmation that candidates have the qualifications to get the job done right? If you're sourcing workers through a staffing agency, they can run a background check for you.
Consider working with a staffing agency for better results
Sometimes, it can be challenging to determine if a candidate is the perfect fit for your open role based solely on their application. This is especially true when specific skills are required for a particular project or when immediate assistance is needed.
Sourcing carpenters is often made easier through a staffing agency. Their staffing experts have years of experience and work with you to determine which skills are necessary for your open role. This will often provide you with the carpenter needed much faster than hires from job boards or even referrals.
Furthermore, staffing agencies have the expertise to assess candidates on their abilities, work ethic and teamwork skills. This vetting process ensures that only the most suitable candidates are recommended for consideration.
PeopleReady Skilled Trades is the staffing partner you need when looking for a carpenter to hire
Is a carpenter needed at your company? PeopleReady Skilled Trades is a carpenter staffing agency that provides fast staffing solutions for the construction industry. Our experts take the time to understand your business's specific needs and provide customized carpenter staffing services, whether it's a single carpenter at one jobsite or many across multiple locations.
Our team serves communities throughout the U.S., allowing us to access workers quickly and support your deadlines. We provide many types of vetted carpenters, including:
Finish carpenters
Formwork carpenters
Punchlist carpenters
Rough carpenters
Trim carpenters
Looking for carpenter staffing services?